Ebola Virus Drugmaker Gives Final Dose Of ZMapp, Its Experimental Drug, To West African Country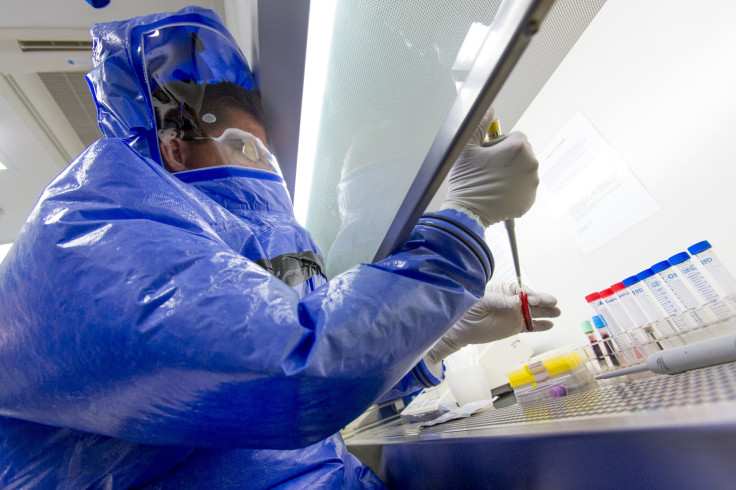 Mapp Biopharmaceutical Inc., maker of ZMapp, an experimental Ebola drug, said on Monday it had provided the last of its medication at no cost to a West African country after receiving a request last week. A total of 1,848 people have become infected and 1,013 have died during the current Ebola outbreak in Guinea, Liberia, Sierra Leone, and Nigeria. In an online statement, the San Diego-based company said its small supply is now exhausted, though it did not provide additional information, including to which nation it had given its final dose.
"When you have less than a handful of doses, the ethical issues become almost impossible," Dr. Anthony Fauci, director of the National Institute of Allergy and Infectious Diseases, told The Washington Post. "There are no clear-cut solutions to this." Ebola is a viral hemorrhagic fever disease, which causes symptoms anywhere from two to 21 days after exposure. A virulent sickness, symptoms include fever, aches, vomiting, and abdominal bleeding.
The difficult to manufacture ZMapp is comprised of three humanized monoclonal antibodies and as such is an "optimized cocktail" combining the best components of two previously attempted therapies for the virus. In the past few days, the company stated, "Mapp and its partners are cooperating with appropriate government agencies to increase production as quickly as possible." The company said it had reached an agreement with LeafBio to assume the commercial responsibility for ongoing development of ZMapp, which would include production.
Last week, doses of the experimental drug had been given to two American missionaries who had become infected while doing aid work on behalf of Samaritan's Purse in Liberia. This decision in light of the short supply of this experimental drug has inspired debate around the globe, with many wondering whether West Africans should have access to the drug before others, including their health care workers. In Liberia, authorities expressed concern that the drug had not been provided to infected Liberians, only the Americans. In a Daily Beast article, Michael Daly notes that, possibly, Samaritan's Purse may have apportioned the rare doses of ZMapp to its two missionaries because "any Western organization that administers an untested serum to the African population runs the risk of being accused of using blacks as guinea pigs in the way of the long-ago Tuskegee syphilis tests and the 1996 meningitis tests in Nigeria."
In a statement released today, a panel convened by the World Health Organization reached consensus that it is ethical to offer unproven interventions with as yet unknown efficacy and adverse effects, as potential treatment or prevention. The Centers for Disease Control and Prevention maintains it was not involved in procuring access to ZMapp — and nor was any public U.S. health organization — while also reiterating the drug is still experimental, in short supply, and "has not yet been tested in humans for safety or effectiveness and much more study is needed." Currently, there are no vaccines or treatments approved for use against Ebola virus by the Food and Drug Administration.
Published by Medicaldaily.com