Ebola worries end for dozens on U.S. watch lists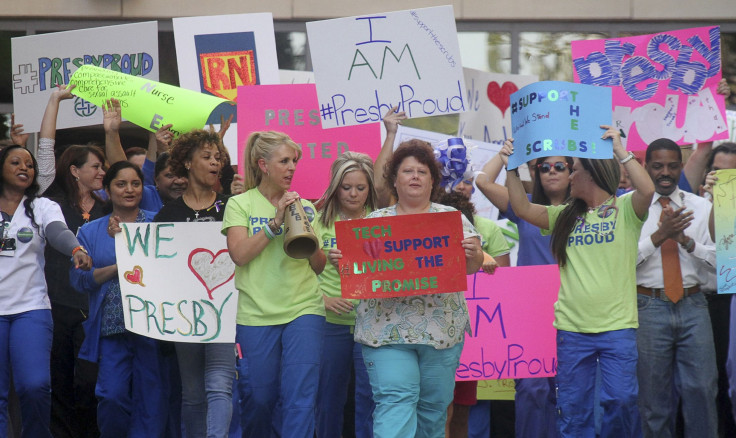 DALLAS (Reuters) - Weeks of worries about Ebola infection ended for dozens of people who came off watch lists in the United States on Monday, but scores were still being monitored after potential exposure to the virus, Texas health officials said.
Forty-three people who had contact with Thomas Eric Duncan, the first person diagnosed with the disease in the United States, were cleared overnight of twice-daily monitoring after showing no symptoms for 21 days, the state health department said, while another 120 remained on watch lists.
The end of monitoring for some could ease widespread anxiety over Ebola in the United States, where some lawmakers have called for a travel ban from West Africa to check the spread of the virus.
The worst outbreak on record of Ebola has killed more than 4,500 people, mostly in Liberia, Sierra Leone and Guinea.
The World Health Organization declared Nigeria free of Ebola on Monday after a 42-day period with no new cases, a success story for African nations struggling to contain the virus.
On Sunday, Liberian President Ellen Johnson Sirleaf urged stronger international action to control the epidemic, saying the disease was unleashing an economic catastrophe that would leave a "lost generation" of young West Africans.
As health officials cleared some people who had been monitored, the federal government ramped up its response in the United States, where three people have been diagnosed with the virus; Duncan - a Liberian who died on Oct. 8 - and two nurses who treated him.
A top U.S. health official said on Sunday the government would issue strict new guidelines telling American health workers to cover their skin and hair completely when dealing with Ebola patients. The old guidelines allowed some skin exposure.
The virus is spread through direct contact with the blood and bodily fluids of infected people. In addition, the U.S. military plans to create an emergency response team of infectious disease doctors, nurses and trainers to help in the event of an Ebola crisis in the United States. The team would not be deployed in West Africa or elsewhere overseas.
The government's new Ebola czar, lawyer Ron Klain, will start work this week with a mandate to ease Americans' anxiety over the virus and fix federal coordination with states to control its spread.
'ZERO RISK'
Officials in Dallas said the people removed from the Texas watch lists on Monday showed no symptoms during the 21-day incubation period.
"There's zero risk that any of those people who have been marked off the list have Ebola. They were in contact with a person who had Ebola and the time period for them to get Ebola has lapsed. It is over. They do not have Ebola," Dallas County Judge Clay Jenkins said at a news conference.
"They are people who have been through an incredible ordeal and they are people who need our compassion, our respect and our love," he said.
In addition to the 43 removed from the list, Jenkins said, one person would be removed later Monday and four others in the coming days.
On Sunday, officials said a lab worker, who had voluntarily isolated herself in her cabin on a cruise ship during a Caribbean vacation, had tested negative for Ebola.
She works at Texas Health Presbyterian Hospital, where Duncan was treated, and while she did not have contact with him, she might have come into contact with test samples from him.
The worker disembarked with other passengers when the Carnival Magic docked at Galveston, Texas, on Sunday after a weeklong cruise that was denied docking by Belize and Mexico because of the presence of the woman on board.
A series of Ebola scares and missteps has rattled the United States since Duncan was diagnosed, jolting Americans' faith in the medical system and its disease-prevention ability.
In a public letter during the weekend, Texas Health Resources Chief Executive Barclay Berdan acknowledged that Texas Health Presbyterian, where Duncan first went, made mistakes, including initially not diagnosing him with Ebola. Berdan said aggressive actions since then ensured that the hospital was a safe place, and that outside experts would be consulted to determine how the two nurses became infected.
By Anna Driver
(Additional reporting by Colleen Jenkins, Karen Brooks, Susan Heavey and Doina Chiacu; Writing by Jim Loney; Editing by Doina Chiacu and Bernadette Baum)
Published by Medicaldaily.com