Ebola's Spread In West Africa Continues To Accelerate And WHO Fears Cases May Increase By Sixfold Before Outbreak's End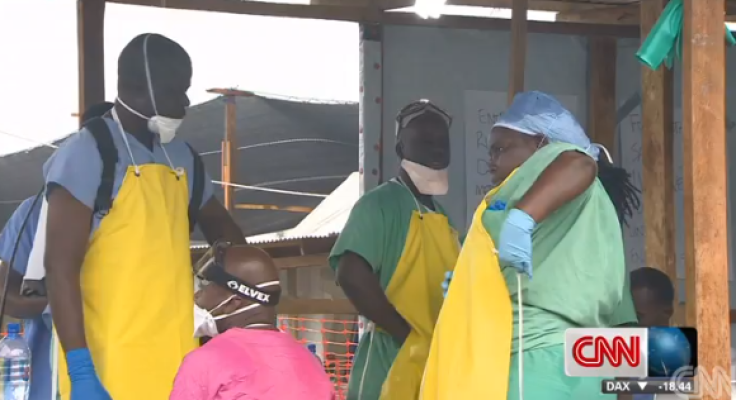 This past Thursday the WHO announced that the number of Ebola cases currently stands at 3,069, and of those 1,552 have resulted in death. The outbreak's spread seems to have accelerated, with nearly half of the cases occurring in just the past three weeks. Unfortunately, WHO does not expect to see the death toll slow down anytime soon and has prepared for 20,000 more cases.
The situation in West Africa isn't just bad, it's steadily getting worse, with the WHO explaining that "more than 40 percent of the total number of cases has occurred within the past 21 days," Reuters reported. Thankfully, the majority of the cases seem to be concentrated in only a few localities, rather than spreading over vast areas, and those who do not live in already infected areas are reassured that their Ebola risk is low. At the moment, four African countries have reported cases of the Ebola virus: Guinea, Sierra Leone, Liberia, and Nigeria. A separate and much smaller Ebola outbreak is also occurring in the Democratic Republic of Congo, but this is caused by a different strain of the virus and is therefore not included in WHO statistics.
The WHO explained that although their anticipation of 20,000 Ebola cases is unlikely "we have got to have a system in place that we can deal with robust numbers." The $489 million plan, which was drafted in Geneva last week, aims to stop Ebola transmission in affected countries within six to nine months, as well as prevent the virus from spreading further, The Associated Press reported. The World Food Program has also announced its plan to feed 1.3 million people in Guinea, Liberia, and Sierra Leone due to the Ebola cutting entire communities from markets and pushing food prices to astronomical numbers.
An Ebola vaccine is currently being developed, with the National Institutes of Health and GlaxoSmithKline announcing that human testing for the experimental drug will begin next week. Multiple trials are planned to run concurrently with healthy volunteers in Maryland, the UK, Gambia, and Mali. Researchers hope the vaccine can be distributed to at-risk individuals by as early as 2015. "Developing a new vaccine is complex with no guarantees of success and it is still early days for our Ebola vaccine candidate," Dr. Moncef Slaoui from GlaxoSmithKline told the BBC, before adding that he and his colleagues "are encouraged by progress so far."
For now, without a vaccine yet available, health care volunteers continue to put their lives in danger every day while treating Ebola patients in West Africa. As many as 240 health workers have been infected, with half that number subsequently dying from the virus. Many volunteers are working without rudimentary protective equipment, disinfectants, and body bags for the diseased — all serious factors that have helped to propel the outbreak's spread.
Published by Medicaldaily.com