Eco-Atkins Diet: Eating Vegan, Low-Carb Food Can Lower Your Risk Of Developing Heart Disease By 10%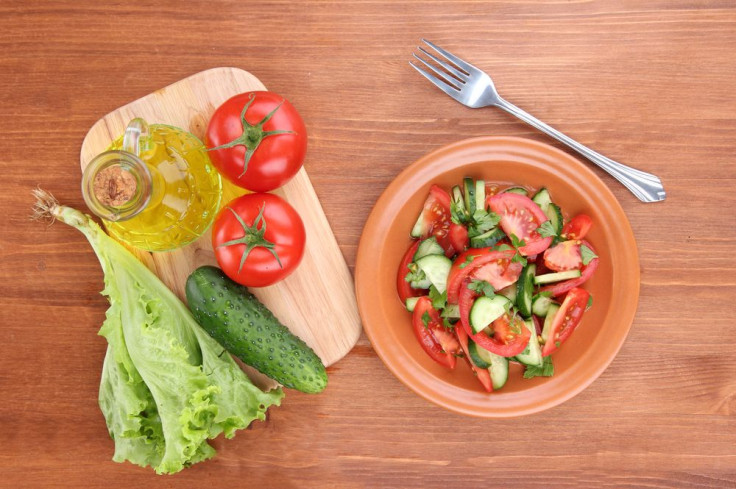 Diets high in saturated fat and cholesterol have been known to raise a person's blood cholesterol levels and promote atherosclerosis, a condition characterized by the hardening of arteries that can lead to cardiovascular disease. Researchers at St. Michael's Hospital in Toronto compared the results of a low-carbohydrate, vegan diet, also known as the Eco-Atkins diet, against a high-carbohydrate, low-fat diet, which found a reduced risk of heart disease by 10 percent over the course of 10 years in people adhering to a low-carb, vegan diet.
"We killed two birds with one stone — or, rather, with one diet," said Dr. David Jenkins, lead researcher and director of the Clinical Nutrition and Risk Modification Centre at the hospital, in a statement. "We designed a diet that combined both vegan and low-carb elements to get the weight loss and cholesterol-lowering benefits of both."
Jenkins and his colleagues from St. Michael's Hospital recruited 23 men and women struggling with obesity to complete a six-month dieting plan. Each participant was given a menu plan that served as a reference guide with food choices and amounts. To make sure they followed the diet, they were given a list of interchangeable food items to suit their palates. Carbohydrate sources included oats, barley, and low-starch vegetables such as okra and eggplant. Protein sources were from gluten, soy, nuts, and cereals. Fat sources were nuts, vegetable oils, soy products, and avocado.
Over the course of the six months, participants were asked to limit their diet to only 60 percent of their estimated caloric intake to help maintain their current weight. Twenty-six percent of their calories came from carbohydrates, 31 percent from proteins, and 43 percent from fat. At the end of the six-month period, adherence to the Eco-Atkins diet resulted in a 10 percent cholesterol reduction and a loss of 4 lbs. Researchers concluded that a diet high in vegetable proteins and oils could help lower our risk of heart disease by limiting "bad cholesterol."
"We could expect similar results in the real world because study participants selected their own diets and were able to adjust to their needs and preferences," added Jenkins, who is also a professor of Nutritional Sciences at the University of Toronto.
Back in 2009, Jenkins headed up a similar investigation that compared the Eco Atkins diet to a standard low-fat lacto vegetarian diet that contained 58 percent of calories from carbohydrates, 16 percent from proteins, and 25 percent from fat. This diet was designed to be low in both saturated fat and cholesterol. Although participants in both groups lost weight, those adhering to the Eco-Atkins diet were able to lower their LDL-cholesterol ("bad" cholesterol), raise their HDL-cholesterol ("good" cholesterol), reduce insulin resistance, and control triglyceride concentrations.
Source: Wong J, Kendall C, Jenkins D. Effect of a 6-month vegan low-carbohydrate ('Eco-Atkins') diet on cardiovascular risk factors and body weight in hyperlipidaemic adults: a randomised controlled trial. BMJ Open. 2014.
Published by Medicaldaily.com