Is Eczema A Lifelong Illness? Baby Eczema Symptoms Persist Into 20s, Increase Use Of Topical Meds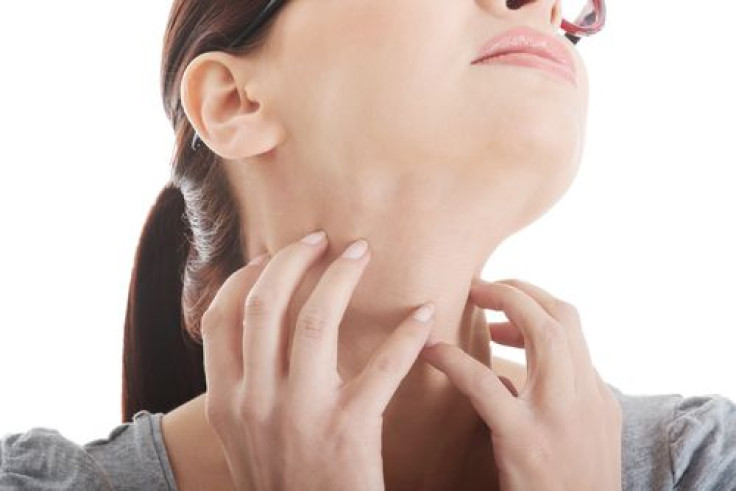 Many children who have the incessant need to scratch the itchy, dry, and red patches of skin may suffer the lifelong pain of eczema. The skin condition that commonly affects the insides of the elbows, backs of the knees, the face, and in some cases most of the body, begins as early as ages 6 months to 2 years old, and is expected to subside by adolescence. However, according to a study in JAMA Dermatology, childhood eczema, specifically atopic dermatitis (AD), flare-ups can persist well into a person's twenties, increasing the likelihood of becoming a lifelong illness.
"In conclusion, symptoms associated with AD seem to persist well into the second decade of a child's life and likely longer," wrote the research team, led by Dr. David Margolis at the University of Pennsylvania Perelman School of Medicine in Philadelphia, according to the press release. "Based on our findings, it is probable that AD does not fully resolve in most children with mild to moderate symptoms." The researchers suggest physicians who treat children with mild to moderate AD should tell children and their caregivers that the condition has the possibility of being a lifelong illness, with periods of waxing and waning skin problems.
Margolis and his colleagues sought to provide new insight into the natural history of AD and to determine the persistence of symptoms over time in a group of children who were enrolled in the Pediatric Eczema Elective Registry (PEER) study. A total of 7,157 children, with an average age of AD onset a 2 years old, who mostly lived in the South Atlantic or the East South Central U.S. census regions, were evaluated for the prevalence of eczema symptoms over time. The children were seeking care for their AD from either a dermatologist, allergist, or pediatrician. At the time of enrollment, all of the participants had used topical medications in the past six months such as pimecrolimus, tacrolimus, or topical steroids.
The researchers investigated the self-reported outcome of whether a child's skin was AD symptom-free during the previous six months — without the use of topical medication — by asking questions such as, "Has the rash cleared completely at any time during the past 6 months?" The self-described outcome was considered to be a well-validated measure of eczema severity that correlates with Eczema Area and Severity Index (EASI) scores. This outcome was reported on more than one occasion since the participants were followed longitudinally and surveyed every six months.
The findings revealed more than 80 percent of the children continued to have eczema symptoms, or went on to use medication to treat the condition every year until they were in their twenties, on average age 26. Half of the participants had at least one period when their skin was clear while not requiring medications, but this finding should not be confused with permanent remission. "Most children enrolled continued to report symptoms and used medications well into the second and even the third decade of life," wrote the researchers in their report.
Childhood eczema has become a growing problem contrary to popular belief that the skin disease will resolve on its own in young children as they get older. The Asthma and Allergy Foundation of America (AAFA) says AD usually goes away during childhood, or by the age of 25. However, the AAFA does acknowledge it can be lifelong for some people. Adults can also develop AD.
Dr. Joshua Zeichner, director of cosmetic and clinical research in the department of dermatology at Mount Sinai Hospital in New York City, believes the recent study touches upon an important finding that eczema does not naturally go away on its own for a majority of children. "Itching is a hallmark of the disease and it is associated with significant health care costs, impairment of quality of life and interpersonal relationships, and lost time at school and work," he told HealthDay. Zeichner also agreed "eczema continues to be a therapeutic challenge for dermatologists, as we don't have a cure. The goal of treatment is to maintain long-term remissions, prevent flares, and manage symptoms like itching."
Eczema affects about one to 10 percent of infants, says the AAFA, while 27 percent of infants whose mothers have allergies will have AD. The skin disease can be triggered by a number of factors that include allergy and emotional stress. Currently, there is no cure for eczema, but topical treatments and at-home remedies can help alleviate and lessen the severity of the symptoms.
Source: Abuabara K, Bilker W, Hoffstad O, and Margolis DJ. Persistence of Mild to Moderate Atopic Dermatitis. JAMA Dermatology. 2014.
Published by Medicaldaily.com