ELF Bike: The Half Car, Half Bike Hybrid Is the Future of Green Commuting [VIDEO]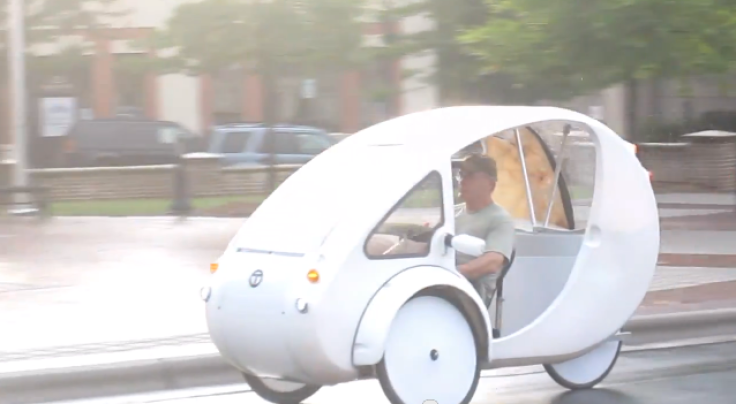 What do you get when you cross a bicycle, a car, and solar panels? The ELF bike is a brand new alternative for green commuters, manufactured and distributed by Organic Transit — a Durham, N.C. company working to develop fresh, environmentally friendly transit solutions.
For Mark Stewart, a proud new owner of an Elf bike hybrid, the innovation means lots of attention and curious pedestrians.
"I don't mind though. I mean I like that people want to talk about it," he told The Huffington Post. The 65-year-old school psychologist from Cambridge, Mass., has taken the summer off to drive his new Elf bike more than 1,200 miles on the trails and roads of the East Coast Greenway — a bike and pedestrian trail that stretches all the way from Canada to Key West, Fla.
"I spent three days in the shop hanging with the guys there and learning the vehicle," he said. "This is just an unsupported solo trip up here in a vehicle that nobody else really knows."
The ELF bike, formally known as "Organic Transit Vehicle," is fitted with solar panels and a chargeable battery. It requires virtually no maintenance at all, and is more or less a bicycle in the eyes of insurance companies.
Elf Bike — The Future?
Rob Cotter, CEO of Organic Transit, told reporters that the ELF bike is the personal fulfillment of both an ethical and environmental responsibility.
"About 30 years ago I was working in the performance car industry working on Porsches and BMWs," he said. "At the time the world record for a streamline bicycle was 55 mph by ground and I realize that those efficiencies are capable with one horsepower. I realized from a social, ethical and environmental standpoint that we're doing something drastically wrong."
The ELF bike responds to the growing demand for automotive alternative in large, urban areas without losing sight of the perennial issues that attend traditional bicycles.
"Issues like weather, steep hills, lack of carrying capacity, falling over and safety concerns steer many away from bicycles. The ELF was designed to address those concerns, contribute to the rider's health, cost savings and lessen their environmental impact," he explained.
So far, only 74 ELF bikes have manufactured; however, with 200 units reserved and a recent growth in demand, the company has opened a second factory and picked up the pace of production. Soon, the ELF bike could be readily available nationwide for commuters seeking a new, green alternative.
Is the Elf bike the future? Check out the video below and see for yourself.
Published by Medicaldaily.com