Eminem Opens Up About Overdose In New Documentary: 'My Name Is Marshall And I'm An Addict' [VIDEO]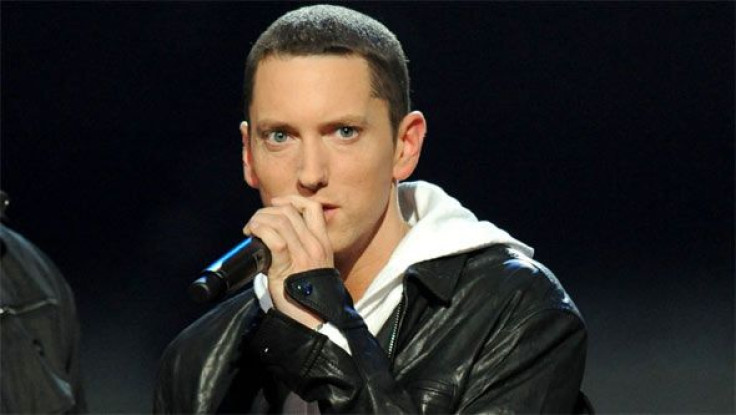 Detroit rapper Eminem has been called a lot of things by the media — underdog, homophobe, oddly popular — but none of those names can hold a candle to what he's openly admitted about himself: "My name is Marshall and I'm an addict."
Eminem has been fairly public about his addiction. But in a new film entitled How To Make Money Selling Drugs, the rapper is candid about his prescription drug use and his struggle to come to terms with the fact that he had a problem.
"People tried to tell me that I had a problem," he said. "I would say 'Get that f-----g person outta here. I can't believe they said that sh-- to me. I'm not out there shooting heroin. I'm not f-----g out there putting coke up my nose. I'm not smoking crack.'"
In the documentary, Eminem told filmmaker Matthew Cooke that he started by just taking Vicodin, and then began mixing that with Xanax. "When I took my first Vicodin, it was like this feeling of 'Ahh.' Like everything was not only mellow, but [I] didn't feel any pain," Eminem said in the film. "I don't know at what point exactly it started to be a problem. I just remember liking it more and more."
In a rare vulnerable moment, Eminem details his hospitalization for an overdose on prescription medications in 2005 and how it was a major wakeup call.
"Had I got to the hospital about two hours later, I would have died. My organs were shutting down. My liver, kidneys, everything," he said. "They were gonna have to put me on dialysis. They didn't think I was gonna make it. My bottom was gonna be death."
The rapper said that a month after he was released from the hospital, he began using again and thought that the addiction could overpower him. That is, until he looked at his children and decided that he had to survive so that they could have a father. "I'm looking at my kids and [realizing] 'I need to be here for this,'" he said in the film.
After that, the rapper went into a self-imposed detox that he says was grueling but worth it. "Coming off everything, I was literally was up 24 hours a day for three weeks straight. And I mean, not sleeping, not even nodding off for a f-----g minute," said Eminem. "I had to regain motor skills, I had to regain talking skills. It's been a learning process, I'm growing. I couldn't believe that anybody could be naturally happy without being on something. So I would say to anybody 'It does get better.'"
Cooke's documentary, which was produced by Bert Marcus Productions, is a "clever" guide about how drug dealers can go from street dealers to kingpins, getting testimonials from actual drug dealers, including rapper 50 Cent and drug trafficker Freeway Ricky Ross. Russell Simmons, Susan Sarandon, and Woody Harrelson also make appearances in the film to discuss American drug regulation and prosecution.
The filmmaker's goal is to raise awareness and change the way we think about regulating both legal and illegal drugs.
Published by Medicaldaily.com