Endoscopy Improves With Greater Oversight, As Doctors Better Detect Precancerous Polyps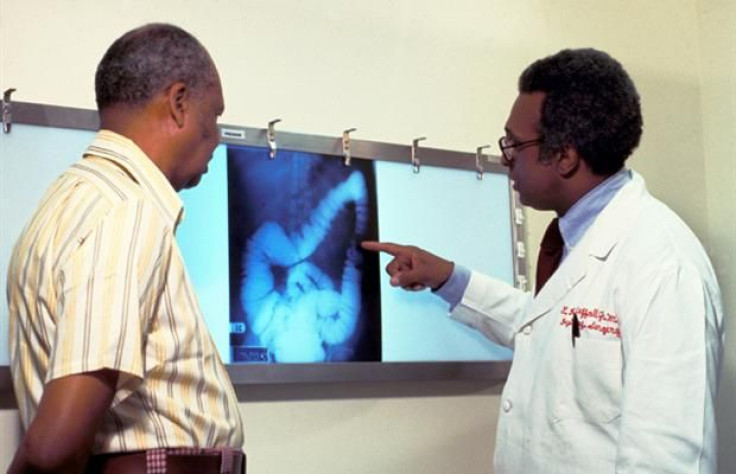 The detection of precancerous polyps improved significantly by physicians who received quarterly report cards as part of an oversight process, a new study showed.
Endoscopists at the Roudebush Veterans Affairs Medical Center in Indianapolis, found 44.7 percent to 53.9 percent more polyps during the study, while improving cecal intubation rates from 95.6 percent to 98.1 percent -- both measurements of the quality of endoscopy they were performing. In the procedure, endoscopists examine the lining of the lower intestinal tract, or the colon, to detect polyps for removal prior to cancerous development.
Although studies assessing the efficacy of oversight of endoscopists to improve the procedure have thus far been mixed, the current study differs from previous research in several respects, the researchers reported in GIE: Gastrointestinal Endoscopy.
"Our report card initiative is based in an academic setting and involves a relatively small group of endoscopists," Dr. Charles J. Kahi, of Indiana University and roudebush, told reporters. "It includes 'hard' quality indicators such as adenoma detection rate and cecal intubation, but also information regarding documentation of bowel preparation quality, patient assessment before the procedure, and withdrawal time."
Moreover, the report cards are blinded to individual endoscopists, with minimal feedback administered confidentially as needed, with no financial incentives or penalties for preset targets. Also, "the intervention is administered regularly and relatively frequently, at 3-month intervals," Kahi said. "We speculate that a combination of these factors led to the observed global improvement in the adenoma detection and cecal intubation rates, rather than a defined and measurable change in one discrete variable."
Roudebush became one of the first medical centers in 2009 to participate in a quality recognition plan from the American Society for Gastrointestinal Endoscopy, whereby physicians receive the report cards providing data on colonoscopy quality indicators including documentation of bowel preparation quality, pre-procedure patient assessments, cecal intubation, withdrawal time, and polyp detection rate.
Patients in the study were of average risk for colon cancer, aged 50 years or older, and undergoing their first screening colonoscopy between July 2008 and December 2008, and between April 2009 and March 2011 for the second half of the study, which judged the improvement rates of physicians following oversight intervention. Six physicians performed colonoscopies on a total of 928 patients, including 336 in the first half of the study and another 592 later.
Researchers said five of the six endoscopists improved after the intervention, mostly by detecting a greater rate of proximal adenomas, polyps on the right side of the colon that are often more difficult to detect. Quarterly report cards for such physicians are practical and easy to implement, Kahi and his colleagues concluded.
Source: Kahi, Charles J. Assessing Performance Of Colonoscopy Procedures Improves Quality. GI: Gastrointestinal Endoscopy. 2013.
Published by Medicaldaily.com