EU Donates 3.5B Euro To Combat Malnutrition In 50 Developing Countries, 40 In Africa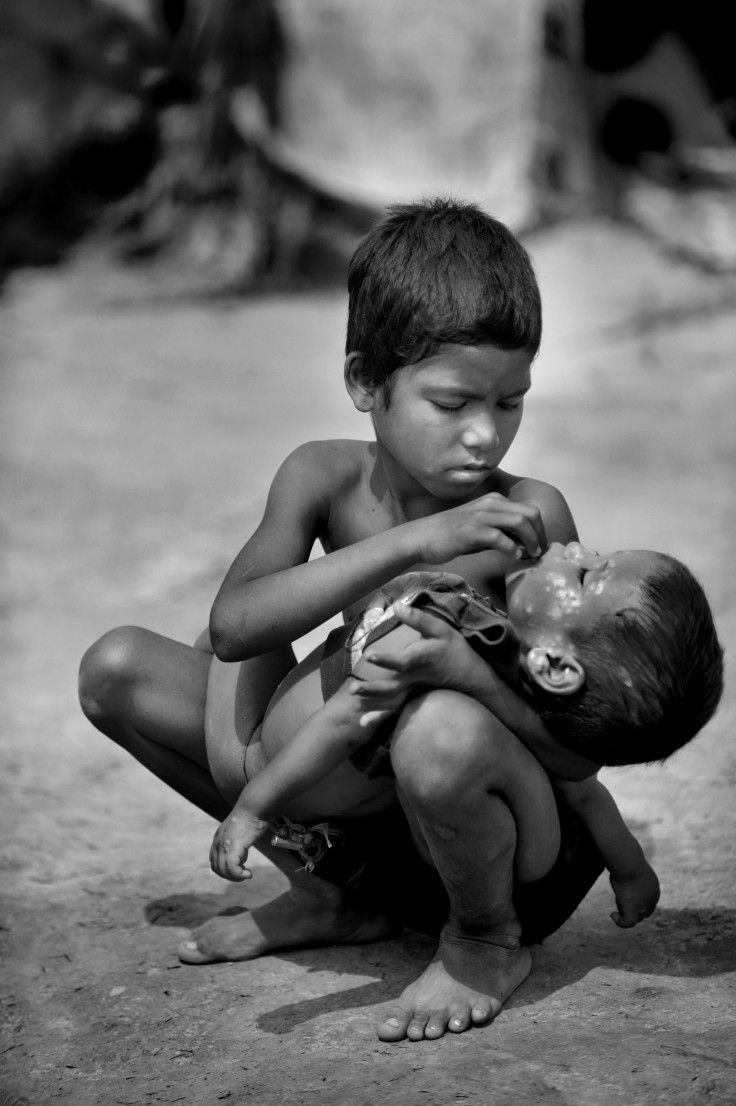 The European Union (EU) is putting aside billions — 3.5 billion in euros, or 4.6 billion in dollars — to confront the very real issue of malnutrition across the world. The funds are being allocated for health problems and investment in agriculture, water, and the education necessary to improve access to healthy, viable food sources.
The unprecedented investment is aimed at improving nutrition in some of the world's poorest countries. According to the Food and Agriculture Organization (FAO), there are 870 million hungry people around the world, with 98 percent coming from developing countries.
Inadequate food sources and poor nutrition have burdened economies, damaged livelihoods, and handicapped the change for prosperity and development in impoverished and starving countries.
Five-hundred-and-seventy-eight million of those people are located in Asia and the Pacific, 239 milllion are in Sub-Saharan Africa, 53 million are in the Near East and North Africa, and 19 million are in developed countries, according to World Food Programme, a non-profit branch of the United Nations.
The EU's long-term goal is to develop better food logistics around the world, which includes creating better food transports and providing nutrition security to vulnerable populations.
EU's Development Commissioner, Andris Piebalgs, is expected to announce the billion-dollar plan for the 2014 to 2020 bracket at an international conference on nutrition in London Saturday. Commissioner Piebalgs will also attend the New Alliance on Food Security and Nutrition event hosted by the United Kingdom, which will cover ways to improve food security in order to specifically confront the nutritional status in Africa. The EU is hopeful that the event will rescue 50 million Africans out of poverty over the next 10 years.
The United Nations Children's Fund (UNICEF), an organization dedicated to 190 countries in an effort to save and improve children's lives, will join forces with the EU and work to better nutrition security in Africa. The EU will provide UNICEF with 14.95 million euros in order to make that goal a reality in Burkina Faso, Ethiopia, Mali, and Uganda — some of Africa's most desolate areas.
Three-quarters of those hungry live in rural areas, such as villages in Asia and Africa. An overwhelming majority of them are completely dependent on agriculture for their food, income source, and employment. This sole dependency creates an uncertain environment with bleak futures and virtually no room to climb a social or education ladder into a better life.
The EU's money is intended to target 50 countries, 40 of which are located in Africa.
According to Commissioner Piebalgs, three million children under the age of five die from malnutrition every year. Last year, the EU set a 2025 target to decrease the number of children stunted from malnutrition by seven million. Children become stunted from being chronically underweight due to a lack of quantity of food, especially food that yields the adequate nutrition to sustain a growing body. There are about 185 million children in the world who weigh less than they should for their age.
In fact, child hunger is often inherited; 17 million children are born underweight every year as a result of their mothers battling malnutrition before and during pregnancy. About 50 percent of pregnant women in developing countries face a deficiency of iron, an essential mineral that helps deliver oxygen-rich blood throughout the body. People with low iron often feel weak, leaving 315,000 women with the condition to die from hemorrhaging at childbirth.
This makes women and children prime targets for the EU funds.
The "hidden hunger" that plagues many of the poorer countries will finally be addressed. Not only is there an issue of hunger, but also the undernutrition of populations that struggle to find solutions on their own. The millions of people that have suffered and carried malnutrition throughout generations have been not only physically but also economically stunted.
Published by Medicaldaily.com