'Eva' Hands-Free Couples' Vibrator To Bridge Pleasure Gap During Sex Via Clitoral Stimulation
Kissing, heavy petting, followed by some frisky foreplay may lead to sex and five minutes of glory — for him. A session of what should be passionate love-making turns into an uncomfortable thrust and awkward facial expressions, leading some women to "fake it" to convince him, and perhaps themselves, that they had a good time. Dame Products, a sex toy company aimed at heightening intimacy and empowering sexual experiences of womankind, aims to bridge the "pleasure gap" with "Eva" — a hands-free couples' vibrator to be used during sex.
Eva creators Alexandra Fine and Janet Lieberman, the women behind Dame Products, created this product to provide a solution to the most common bedroom woe for women — orgasm. "Clitoral stimulation is really important to a lot of women for their pleasure and enjoyment, and it's difficult to get during sex," Lieberman told The Daily Dot. "Usually, you have to get it before or after. Women need a little more time to get to that moment, to touch and feel and kiss to get revved up a bit more. And a lot of the vibrator solutions on the market today don't allow partners to be close and intimate while using them."
A survey published in the Journal of Sexual Medicine found about 15 percent of women participants reported that their latest sexual experience was "not at all pleasurable" or only "a little" pleasurable." This percentage was compared to the 4.3 percent of men who reported the same. The survey highlights the disparity in sexual pleasure that exists between men and women come to know as the pleasure gap.
The hands-free and strapless device is worn only externally and focuses primarily on the clit, since it's a huge factor in the pleasure gap. The product is designed to keep couples focused on each other without "changing the way sex feels." Fine and Lieberman addressed on Eva's IndieGoGo page, the hands-free vibrator is supposed to eliminate the "awkward, tiring, or disruptive" experience of clitoral stimulation during intercourse without lessening the guy's experience.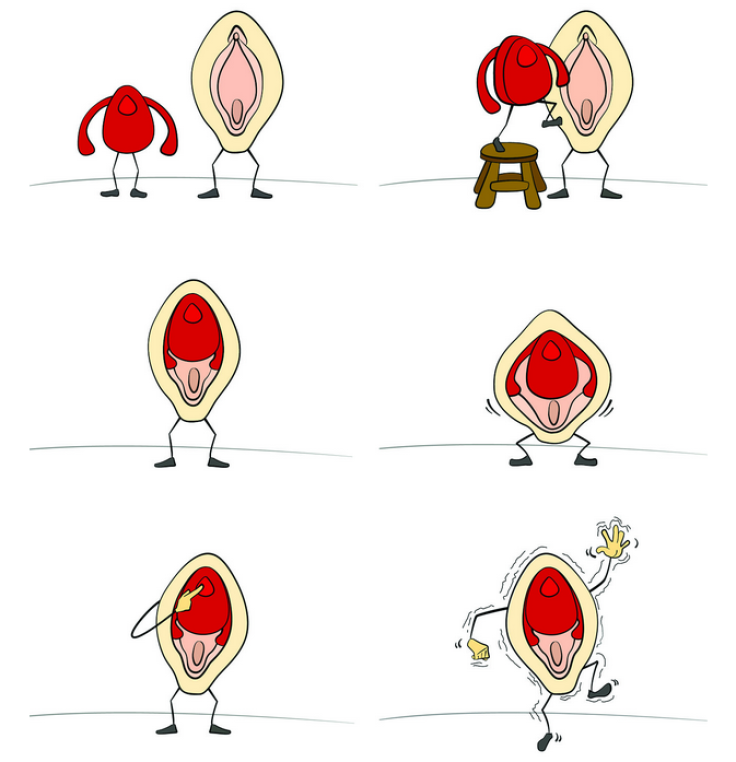 The device can be used in a variety of sex positions and can even stay in place while switching positions. However, one challenge these devices face is fit. Dame used 3D printers to iterate prototypes quickly and explore various forms, which led them to create a functional shape that fits with a wide range of women. Although the product has been a success with most testers, according to Dame, it's important to remember no two vulvas are the same.
Recently, We-Vibe, the first hands-free device that can be remotely controlled by an app, was released to allow couples turn their partners' vibrations on and off from wherever they are. The 3-inch-long U-shaped toy sits between the labia and stimulates the clit, while the other arms fit inside the vagina and can be used during intercourse. However, unlike Eva, it is worn internally.
These hands-free sex toys are just among several in the marketplace that aim to make sex more pleasurable for women. Eva, just like the We-Vibe, is designed to make women happy. "We are trying to make the world a happier place, one vagina at a time," Fine told Refinery 29.
Currently, Eva is crowd-funding on IndieGoGo. The product has surpassed its $50,000 goal with about $148,000, with still 40 days left. To support Eva or get one of your own, click on their IndieGoGo page.
Published by Medicaldaily.com