Exclusive: U.S. Considers Ending Program That Lures Cuban Doctors To Defect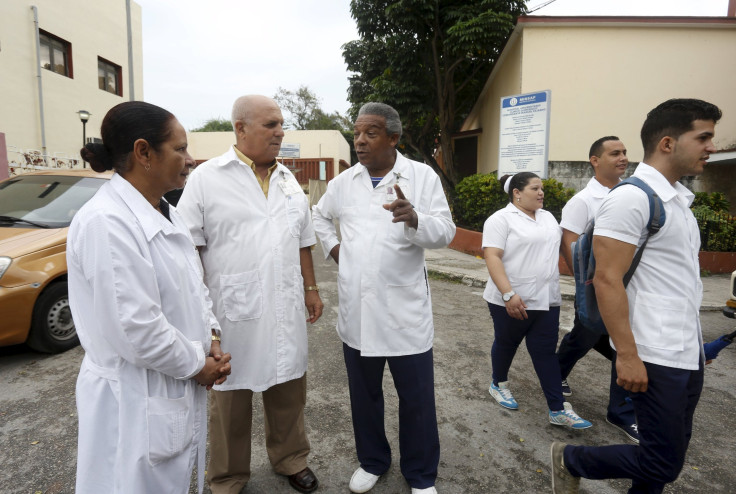 WASHINGTON/HAVANA (Reuters) - The U.S. government is considering putting an end to a program that encourages Cuban doctors and nurses on overseas assignments to defect, a senior aide to President Barack Obama said, in a gesture emblematic of improving U.S.-Cuban relations.
The Cuban Medical Professional Parole Program, which started under President George W. Bush in 2006, targets one of Cuba's proudest achievements: sending doctors, nurses and other medical professionals abroad, either on missions of mercy or to raise cash for the Communist government.
The program grants U.S. officials discretionary authority to allow Cuban medical professionals into the United States, providing assistance at U.S. embassies in the countries where the doctors are posted. It is open to more than 50,000 Cuban medical professionals in more than 60 countries.
The program has now been placed under review, said Ben Rhodes, a deputy national security advisor to Obama who was part of the negotiating team that reached detente with Cuba a year ago after 18 months of secret talks.
"It's an unusual policy, and I think as we look at the whole totality of the relationship, this is something that we felt was worth being in the list of things that we consider," Rhodes told Reuters.
The United States has approved 7,117 applications since 2006. The numbers have grown in recent years, reaching a record 1,663 in fiscal year 2015, according to data from the U.S. Department of Homeland Security, which administers the program jointly with the State Department.
Cuba has been openly scornful of the program, calling it a "reprehensible practice" that is designed to "deprive Cuba and many other countries of vital human resources."
Cuban foreign ministry officials were unavailable on Friday to comment on Washington's review of the program, which has not been previously reported.
A senior administration official said a decision on whether to end the program was due early this year.
The program dates to a period of lingering Cold War animosity, but relations changed dramatically with the detente that Rhodes helped negotiate. Obama and Cuban President Raul Castro announced in December 2014 they would seek to normalize relations. By July, diplomatic ties were restored after a 54-year rupture.
The two governments have since reached accords on environmental protection and the resumption of direct mail service and scheduled commercial airline flights.
With such a thaw under way, the parole program no longer seemed to fit what the White House has called a "new chapter" in U.S.-Cuban relations.
MEDICAL DIPLOMACY - AND CASH
Cuba periodically sends medical brigades abroad to countries that have suffered natural disasters or health crises. In 2014 and 2015, it sent 256 doctors and nurses to West Africa in the middle of an Ebola virus outbreak.
But mostly the assignments are a revenue-earner for the Cuban government. It has sent 30,000 medical professionals to socialist ally Venezuela in exchange for more than 100,000 barrels per day of oil. Thousands more are in Brazil, typically in far-flung areas that Brazilian doctors avoid.
While the jobs are well-paid by Cuban standards and highly sought, the doctors receive only a fraction of the amount that the foreign governments pay for their services. Some defectors have cited harsh working conditions as reasons for abandoning their posts.
Critics consider the practice a form of exploitation. The U.S. State Department's annual Trafficking in Persons report cites some defectors who claim the government used threats or coercion to keep them in their jobs, and a State Department description of the parole program refers to doctors and nurses as being "conscripted" to work abroad.
A recent Cuban policy change that blocks some Cuban doctors from leaving the country without special permission has complicated the review, but did not end it, U.S. officials said.
With so many doctors leaving, whether through the program or simply taking jobs offered in other countries, Cuba last month re-imposed limits on doctors traveling abroad, saying its universal and free healthcare services have been "seriously affected."
In a rare backtrack by Cuba on modernizing reforms of recent years, the government said it would reapply restrictions that had been lifted in 2013.
That caused concern within the U.S. government because the new Cuban migration policy, combined with an end to the parole program, would severely limit the ability of Cuban doctors and nurses from fleeing harsh assignments. U.S. immigration law and policy have long offered preferential treatment for Cubans.
Although U.S. laws limit Obama from changing some Cuba policies, such as the trade embargo, the parole program is a creation of the executive branch, and Obama can end it without consulting Congress.
(Reporting by Jeff Mason and Daniel Trotta; Editing by Kieran Murray and Grant McCool)
Published by Medicaldaily.com