Exercise Tips And Techniques For Working Out During Each Trimester Of Pregnancy, According To Experts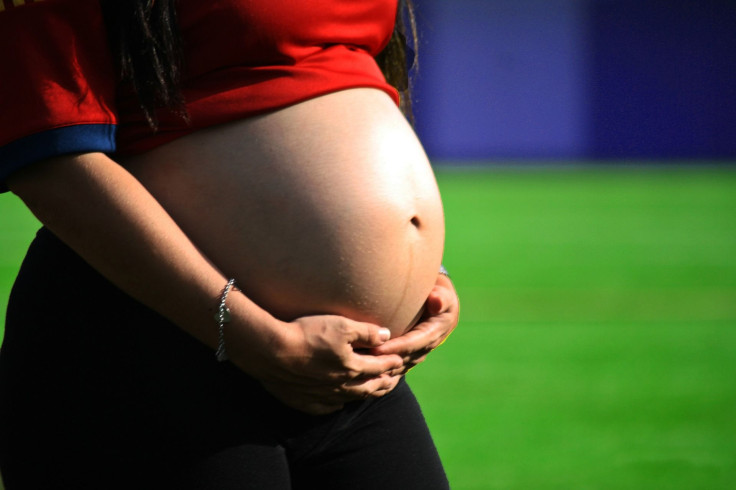 Society often depicts pregnancy as a time of binge eating and unrestrained weight gain, but practicing healthy habits during these nine months is not only possible, but highly recommended. Of course, with a baby on board, your exercise regimen will change from what you are used to. Here are some tips and techniques to help you and baby stay fit and healthy during your pregnancy in the safest way possible.
The American College of Obstetricians and Gynecologists recommends that pregnant women get about 30 minutes of moderate exercise most days of the week, Fit Pregnancy reported. There are countless benefits to exercising while pregnant; the biggest may be its ability to reduce the risk of pregnancy-related complications, Baby Center reported.
Read: Pregnancy And Exercise: Expert Safety Tips On How To Work Out While Pregnant
For example, research has found that working out during your pregnancy can reduce the the risk of developing gestational diabetes. According to The Mayo Clinic, gestational diabetes is a form of diabetes that only develops during pregnancy, and affects how the body uses sugar. Although treatable, this condition can have adverse affects on the health of both baby and mother.
In addition, even if you do develop gestational diabetes, exercise may limit how much it affects you, such as lowering the chances of having a very large baby and needing a cesarean delivery, Baby Center reported.
Exercise during pregnancy can also help to improve sleep quality and relieve some of the common discomforts associated with pregnancy. Lynn Duffy, a prenatal and postnatal fitness instructor in New York City told Medical Daily that not exercising while pregnant could actually do more harm than you may have thought.
"It is proven that a woman who exercised regularly before being pregnant will do more harm by stopping exercise completely during pregnancy," Duffy told Medical Daily in an email. "An active woman who stops exercise at pregnancy will have a negative effect on adrenal glands, weight, strength, endurance. Exercise should be modified during pregnancy but not stopped unless directed by a doctor."
First Trimester
It's always important to speak with your doctor first before starting any new exercise program during pregnancy. During the first trimester however, most women will have the go-ahead to work out, though you should still use caution.
"During the first trimester, a woman can do most of the same exercises she had been doing. It is best that a woman maximize on building cardiovascular and also core at this time," Duffy told Medical Daily.
Recommended types of workouts during this stage in your pregnancy include swimming, yoga, and light weight lifting.
Second Trimester
Although you may be bigger during your second semester, most women feel more energetic as the morning sickness and fatigue associated with the first semester of pregnancy has likely subsided, Women's Health reported.
However, there are also greater risks to exercising as your pregnancy advances, and for this reason it's advised to avoid activities where you could experience a hard fall, such as biking. Instead, try out a stationary bike which offers similar cardio only without the risk of serious accident.
"In the 2nd Trimester I focus on whole body strength, building lean muscle," said Duffy. "Weight is gained as the baby is getting bigger so building lean muscle is critical. Also building strength to support the growing baby."
Yoga is highly recommended during this time period, although women should avoid Hot Yoga classes with elevated temperatures, and yoga positions that could cause you to fall, Healthline reported.
Third Trimester
Working out during the third trimester may be more difficult, but it's still possible. Safety is especially important during this time period, so it's best to avoid any activity that could put you at risk for falling.
"Flexibility is the focus in the 3rd trimester," said Duffy. "The body is weighted and tight from the growth of the baby."
Low impact exercises such as yoga and pilates are recommended, as well as light weightlifting and strength training exercises such as squats, modified planks, and wall push-ups, Healthline reported. However, at this point in your pregnancy, crunches and other types of ab workouts that have you lying flat on your back should be avoided.
Of course, there are dangers to working out while pregnant; women should avoid working out in extreme heat and exercises that put them in danger of falling or hurting the baby. Duffy said she always leaves her clients with this piece of advice:
"The body is a survivalist; your body will give you a heads-up that something isn't safe during pregnancy; listen to your body."
See Also:
Good News For Fit Pregnant Women: New Study Says Moderate Exercise Reduces Risk Of Gestational Diabetes, High Blood Pressure
Regular Exercise May Help Pregnant Women Skip Common Pelvic Girdle Pains While Carrying Baby To End Of Term
Published by Medicaldaily.com