Experience Old Age by Wearing a Suit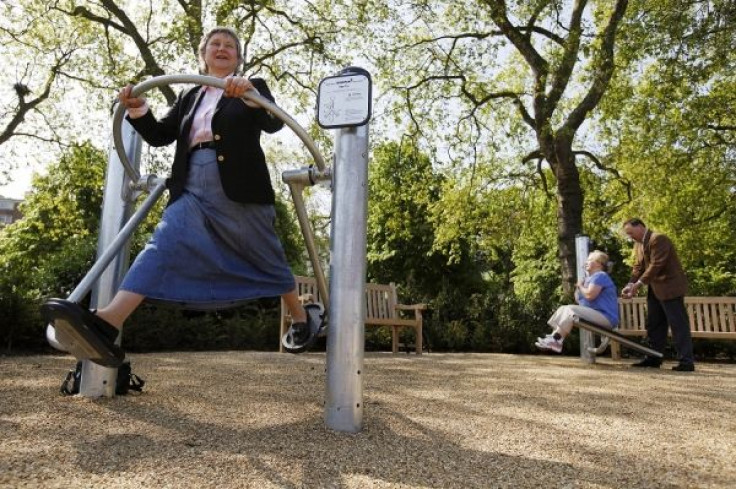 Consisting of ear-protectors that impede hearing, a yellow visor that distorts sight, knee and elbow pads, which aids in stiffening your joints, who knew old age can be readily accessible through one suit.
The industrial-style suit, which is known as the Age Man Suit, has been constructed to stimulate the physical effects of old age. Developed by Rachel Eckardt, a senior physician at Berlin's Evangelical Geriatrics Center (EGZB) and Saarbrucken-based Meyer-Hentschel Institute, the suit intends to sensitize doctors to the medical and social needs of the elderly.
Weighing at 10kg, which equates to about 22 pounds, the Age Man Suit has a Kevlar-jacket-style vest that seeks to press an uncomfortable feeling along one's chest, a walk up the stairs would leave you breathless and tired. The heaviness along with the obstructed hearing and distorted sight leaves one feeling dizzy and perplexed.
According to Eckardt that was her exact intentions. Instead of demonstrating a power point regarding old age and its symptoms, she believed it would a great realistic feel if one can actually experience those symptoms to get a better knowledge of what it is like to be old. With this she hopes is to spark new found empathy so students would become more fascinated in old people as patients. Eckardt believes there is a considerable disconnect between medical officials and their elderly patients, as well as, the lack of doctors who want to pursue a career in geriatrics, which is the internal medicine that focus solely on providing health care to elderly people.
The suit which is also known as the "age explorer," supports research in senior friendly products over the age of 60. With a growing elderly population in Germany this suit is expected to prepare physicians for 2030, where more than 26 percent of Germany's population is predicted to be over 65 years of age.
A second year medical student at EGZB, Elisabeth Steinhagen stated to the Guardian, "Geriatrics is a relatively new field, which doesn't have the status of other areas of medicine like surgery, but it involves a great variety of illnesses, not just arthritis and dementia, and so is a fascinating field."
Published by Medicaldaily.com