Extra Short Rounds of High-Intensity Exercise Improves Physical Fitness in Inactive Men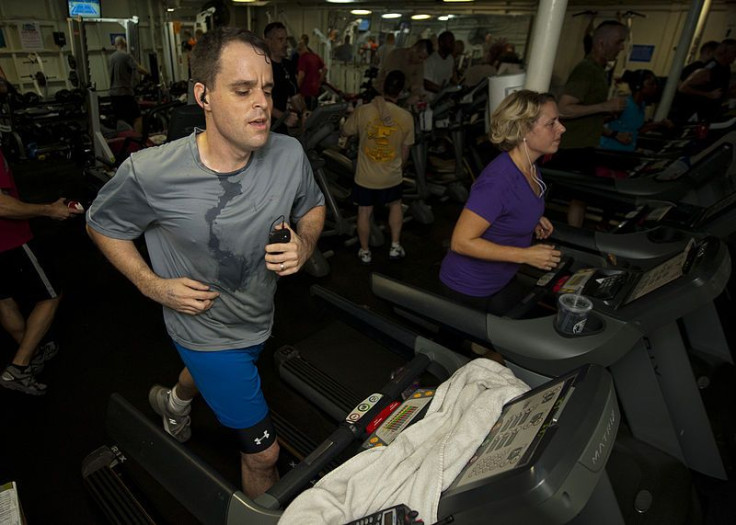 High-intensity workouts have been popular lately, and more evidence supporting it has consistently been released as well. A new study conducted at the Norwegian University of Science and Technology (NTNU) says that just four minutes of vigorous activity three times a week is enough to make previously inactive men fitter and healthier.
Maximal oxygen uptake (VO2Max) is a measure of physical fitness. It is based on an individual's ability to consume oxygen, which ultimately determines their maximal work output. Researchers from NTNU's KG Jebsen Center of Exercise in Medicine/Cardiac Exercise Research Group found that three short high-intensity sessions (AIT) each week amounted to a significant increase in maximal oxygen uptake, according to a press release.
"Our data suggest that a single bout of AIT performed three times per week may be a time-efficient strategy to improve VO2max," Arnt Erik Tjønna, a postdoctoral fellow at the center and lead author of the study, said in the release.
For the study, 24 inactive but otherwise healthy overweight men were split into two groups — each one performed a 10-week training session. The first group, which had 13 men, followed a routine consisting of four intervals of four-minute high-intensity exercise (4-AIT) at 90 percent of maximal heart rate (HRmax), with three minutes of active recovery at 70 percent HRmax scattered in-between. This form of exercise is called 4x4 training. The second group followed a routine of a single four-minute interval (1-AIT) at 90 percent HRmax. Both groups performed the routines three times each week.
They found that the second group (1-AIT) showed a 10 percent increase in maximal oxygen uptake, while the first group (4-AIT) increased their maximal oxygen uptake by 13 percent. Both groups saw their blood pressures decrease, however it was the second group that showed a greater decrease in systolic and diastolic blood pressure.
Tjønna acknowledged that the study, which was published in the journal PLOS One, was small, limiting their ability to extrapolate their findings.
"It has to be noted that the subjects were previously inactive and the same effect on physical fitness cannot be expected in active individuals," he said. "Nevertheless, since we know that more and more people are inactive and overweight, the kind of improvement in physical fitness that we saw in this study may provide a real boost for inactive people who are struggling to find motivation to exercise."
Tjønna's study supports another one from earlier this month which found that a combination of 12 high-intensity workouts in seven minutes could be just as effective as other, longer workouts. It included a combination of jumping jacks, wall sitting, push-ups, crunches, step-ups, squats, tricep dips, the plank, running in place, lunges, rotation push-ups, and the side plank.
According to the 2008 Physical Activity Guidelines for Americans, it is recommended that every American adult gets at least two and a half hours of moderate-intensity workouts each week or one hour and 15 minutes of vigourous-intensity workouts each week.
Sources:
Tjønna A, Leinan I, Bartnes A, et al. Low- and High-Volume of Intensive Endurance Training Significantly Improves Maximal Oxygen Uptake after 10-Weeks of Training in Healthy Men. PLOS One. May 2013. Accessed May 29, 2013.
Klika B, Jordan C. High-Intensity Circuit Training Using Body Weight: Maximum Results with Minimal Investment. Health & Fitness Journal. May 2013. Accessed May 29, 2013.
Published by Medicaldaily.com