Face Transplant Patient Richard Norris Revels In The Fact That People No Longer Stare At Him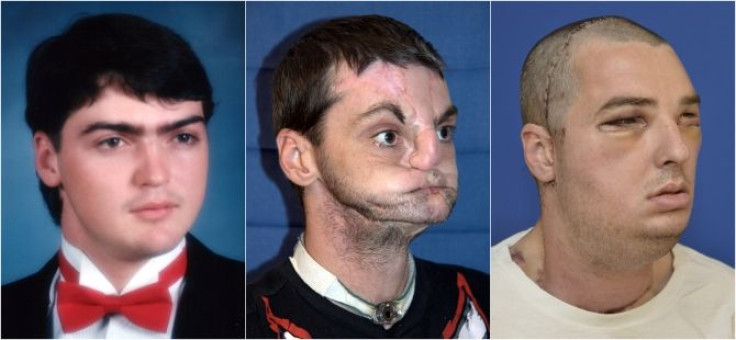 Richard Norris' life was changed forever 15 years ago when a gun accident left him with only a skull, eyes, and parts of his jaw. His face was permanently disfigured. A groundbreaking 36-hour procedure has restored Norris' face so well that people no longer stop and stare.
"When I was disfigured, just walking the sidewalk, I was surprised that more people didn't walk into telephone poles or break their necks to stare at me," he told the Associated Press. "Now ... there's no one paying attention. Unless they know me personally, they don't know I am a face transplant patient. That right there is the goal we had."
Norris underwent surgery at University of Maryland Medical Center in March last year. The complex procedure was able to take place as the result of an organ donation.
"We utilized innovative surgical practices and computerized techniques to precisely transplant the mid-face, maxilla, and mandible including teeth, and a portion of the tongue," explained Dr. Eduardo Rodriguez, who led the surgical team. "In addition, the transplant included all facial soft tissue from the scalp to the neck, including the underlying muscles to enable facial expression, and sensory and motor nerves to restore feeling and function. Our goal is to restore function as well as have aesthetically pleasing results."
Prior to the surgery, Norris was recluse and wore a prosthetic nose and mask. Just a few days after the surgery, doctors reported that the 38-year-old Virginia man regained his sense of smell, felt his face and was able to move his jaw and open and close his eyes. He was also able to shave and brush his teeth.
Last October, doctors were thrilled with Norris' progress just seven months after the procedure. "Richard is exceeding my expectations this soon after his surgery, and he deserves great deal of credit for the countless hours spent practicing his speech and strengthening his new facial muscles," Rodriguez said. "He's one of the most courageous and committed individuals I know."
In all, 28 face transplants have taken place since the first one in France in 2005. Of those, four recipients have died and all of them have to use immunosuppressant drugs for the rest of their lives to prevent their bodies from rejecting the new face organs. "If you talk to these patients, they will tell you it is worth the risk," said Norris' psychiatric consultant Dr. Mark Ehrenreich.
"Every day I wake up with that fear: Is this the day?" said Norris. "The day I'm going to go into a state of rejection that is going to be so bad that the doctors can't change it?"
Today, Norris says that the surgery has given him an all new outlook on life. He is currently pursuing a degree in Information Systems. He has also been working with a photojournalist who just finished a book about his journey. The book is titled, The Two Faces of Richard.
In general, Norris says that he is grateful for the unfortunate events that led to the surgery. Though he battled addiction and contemplated suicide, he believes he's come out stronger in the end.
"Those 10 years of hell I lived through, it has given me such a wealth of knowledge," he said. "It's unreal. It has put some of the best people in my life."
Published by Medicaldaily.com