Facebook Weight Loss Feature, 'Life Event,' Is Not New, But It's Just Now Causing A Stir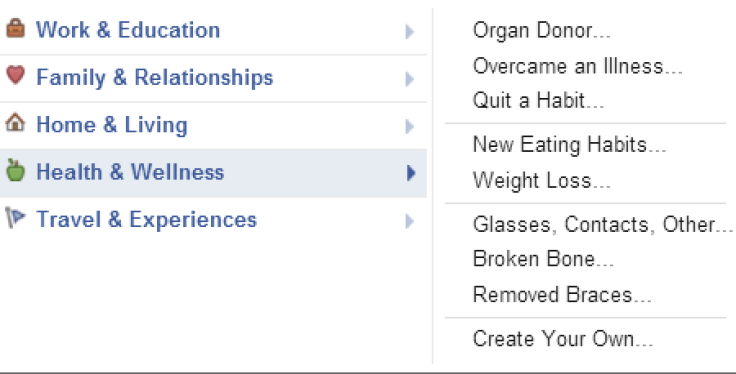 Facebook is used for many things, including connecting with old friends, keeping up with loved ones, and it can even be used to track your weight loss.
As part of the "Health and Wellness" feature, you can share your weight-loss progress with your friends by posting the details to your timeline. It's broken down by pounds, location, who you're with, the date, and any extra comments. There's also the option to upload a photo alongside the weight-loss info. However, this isn't a new feature by any means, it's been around since 2011. News and media organizations have recently been calling this new feature brand new, but the only thing new is that it's gaining a lot of attention.
This feature is causing a stir among many, since it seems Facebook may have overstepped its boundaries. Studies have shown that social media, especially Facebook, can cause a strain on one's mental health. Last month, research from the University of Queensland's School of Psychology in Australia found that people who were ignored on Facebook had lower levels of self-esteem.
Other research has found that the frequent use of Facebook can cause many people to have FOMO, also known as fear of missing out. People scroll through their newsfeed and see their connections doing seemingly wonderful things with their lives — leaving them feeling left out. So now that this weight-loss feature has gained so much attention, is this just another way to feel bad?
"Social media — Twitter, Instagram, Facebook — can create a false sense of connection with people," said Sheri Meyers, PsyD, a therapist in Los Angeles, Refinery 29 reported. "And, it's immediate and 24/7, so there isn't as much of a need to reach out to those that are close to us."
Sharing weight loss on Facebook might give some immediate satisfaction, but what happens when the opposite happens? If someone gains weight? They're most likely to feel less successful and have a poor self-image.
Even Facebook itself admits that too much use isn't good either. In 2012, when the company was celebrating one of its work anniversaries, it released this statement: "Birthday cakes are made for people to be together. They give friends a place to gather and celebrate. But too much cake probably isn't healthy. So birthday cake is a lot like Facebook."
In other words, get off of Facebook and start living your real lives. And besides, there are many other less intrusive ways to share your weight loss successes and failures — there are hundreds of smart phone apps that can track and monitor weight loss.
So, while this Facebook feature might not be a favorite for some, there are other options, like health and wellness apps — organ donation and overcoming illnesses, to name a few. These might inspire others, too.
Published by Medicaldaily.com