Falling Circumcision Rates in US Raise Disease Risk and Healthcare Costs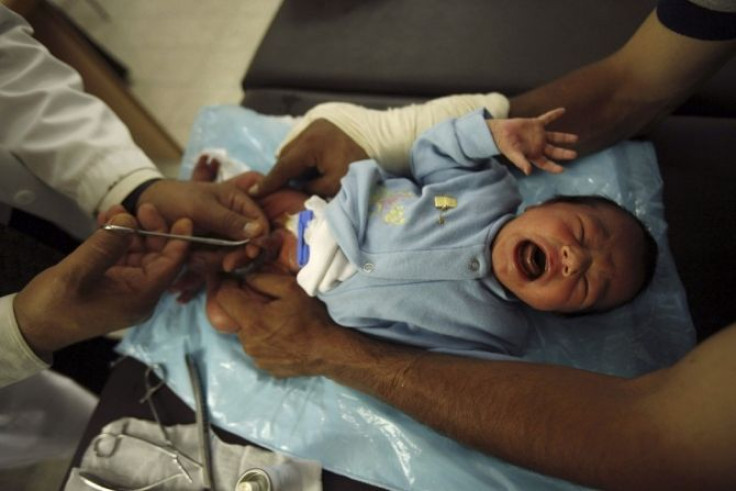 The decline in the number of male babies being circumcised in the United States could add more than $4.4 billion in preventable health care costs over the next decade if circumcision rates continue to drop to levels currently seen in Europe.
Using a mathematical model based on previous studies of the health effects of circumcision, researchers from Johns Hopkins University predicted that healthcare costs would rise by about $500 million a year if, like Europe, only 10 percent of male newborns were circumcised nationwide.
Researchers said that the increase in healthcare costs would be mainly driven by increases in sexually transmitted infections that would otherwise have been prevented by circumcision.
Results from the study, published in the Archives of Pediatrics & Adolescent Medicine, showed that the rate of urinary tract infections in male babies would more than double and the rate of HIV infections would increase by 12 percent.
Researchers also predicted that among men human papillomavirus would increase by 29 percent and herpes would increase by 19 percent in men, if only one in 10 male newborns were circumcised nationwide.
Besides the overwhelming increase in sexually transmitted infections in males, researchers predicted that in women there would be a 50 percent increase in cases involving bacterial vaginosis and trichomoniasis, and the number of new infections associated with the high-risk form of human papillomavirus that is linked to cervical cancer in women, would increase by 18 percent.
According to lead researcher Dr. Aaron Tobian and his team, male circumcision has a range of health benefits, most of which appear in adulthood, including a lower risk of being infected with HIV and some other sexually transmitted diseases.
While infant circumcision rates were relatively high in the in the 1970s and 1980s at about 79 percent, the infant circumcision rate fell to 62.5 percent in 1999 and to 54.7 percent by 2010, mainly because states are increasingly eliminating Medicaid coverage for circumcision, noting that 18 states have stopped paying for the procedure.
"The financial and health consequences of these decisions are becoming worse over time, especially if more states continue on this ill-fated path," Tobian said in a university release. "State governments need to start recognizing the medical benefits as well as the cost savings from providing insurance coverage for infant male circumcision."
Citing past studies, Tobian and his team said that in men, circumcision significantly lowers the risk of HIV, low-risk and high-risk HPV and herpes simplex virus type 2 while in women, having a circumcised partner dramatically reduces the risk of HPV, bacterial vaginosis and trichomoniasis.
The team's analysis predicted that on average, each male circumcision not performed leads to $313 more in illness-related expenses, costs that would not have been incurred if these men had undergone the procedure, and they estimated that the 20-year decline in the number of American males circumcised at birth has already cost the nation nearly $2 billion.
If circumcision rates among males fall to 10 percent among males, lifetime healthcare costs would increase by approximately $407 for each man and $43 for each woman, leading to $4.4 billion in avoidable health care costs over a decade.
"Our economic evidence is backing up what our medical evidence has already shown to be perfectly clear," said Tobian. "There are health benefits to infant male circumcision in guarding against illness and disease, and declining male circumcision rates come at a severe price, not just in human suffering, but in billions of health care dollars as well."
Published by Medicaldaily.com