Family Dinners Promote Better Mental Health In Teens, Reduces Risk Of Being Cyber Bullied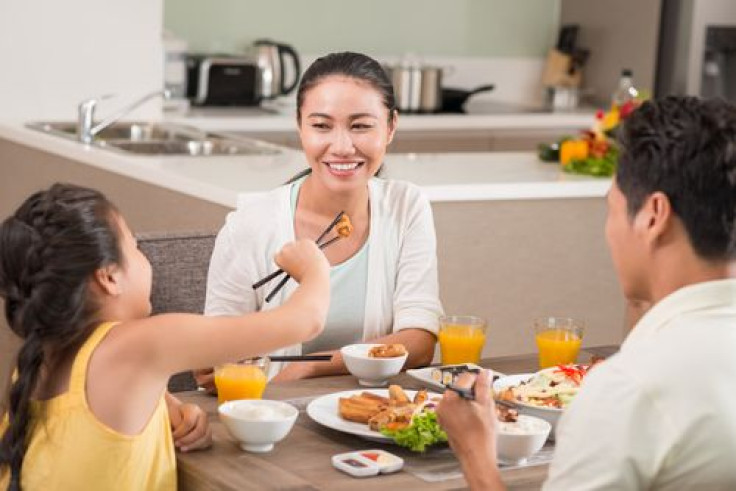 According to the American Humane Association (AHA), 25 percent of children and teens living in the United States are cyber bullied. And a new study published in JAMA Pediatrics suggests family dinners can greatly reduce that number.
The AHA found cyber bullying can range from mean, threatening messages to one teen impersonating another in order to make them look bad or to reveal personal secrets. Recipients of such are at an increased risk for poor mental health. The present study used survey data from 18,834 Midwestern students ages 12 to 18 to see if there was an association between cyber bullying and mental health and substance abuse problems.
Each student was measured for internal and external problems (think depression, suicide attempt, and vandalism), as well as substance abuse problems, like binge drinking and prescription drug abuse. And researchers found nearly 19 percent of students had been cyber bullied within the last 12 months, which was, in fact, associated with the internal and external problems. But there was a "4-fold difference" in the students who enjoyed family dinners four to five times a week.
Family dinners serve as a source of support for teens being bullied. They feel better protected and, according to separate research, are less encouraged to smoke, drink, and use drugs. In turn, better mental health reduces the risk of suicide, which the Centers for Disease Control and Prevention cited as the third leading cause of death in teens.
Cyber bullying doesn't just harm a teen's mental health. A study published in Proceedings of the National Academy of Sciences found bullied children experience an increase in chronic, systematic inflammation, as a result of suffering from stressors, such as poor nutrition and lack of sleep.
Another study from the Boston Children's Hospital found that the longer a child is bullied, the more severe they experience depressive symptoms and lower self-worth even years after it's ended.
However, the researchers could not conclude that cyberbullying alone is enough to predict poor mental health. Instead, they wrote in a press release, "these findings support calls for integrated approaches to protecting victims of cyberbullying that encompass individual coping skills and family and school social supports."
There's no easier starting point than a family dinner. Though a 2013 Gallup poll found 28 percent of families in the U.S. routinely eat together, and 21 percent eat together up to three nights a week.
Choosing to dine-in with your teen also mitigates the risks that come with frequently eating out — something 68 percent of Americans are now doing. Research from the University of Rochester's Medical Center in New York found it prevents obesity, a higher body fat, and BMI.
Source: Bradshaw CP. The Role of Families in Preventing and Buffering the Effects of Bullying. JAMA Pediatrics. 2014.
Published by Medicaldaily.com