Family Rituals Foster Emotional, Social Growth In Young Children: How Eating Dinner Together Helps Children Succeed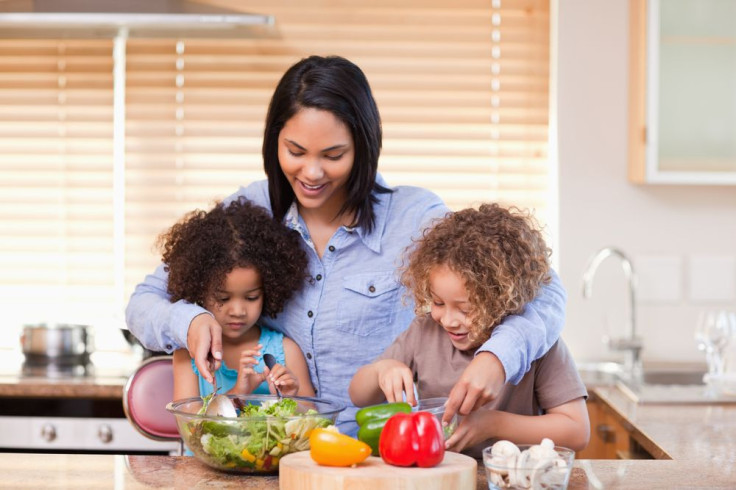 Many young kids, to their caregivers, are little chatterboxes that can't, and won't stop talking — and that's a great thing. Interactions between child and caregiver are essential to the child's social, emotional, and mental development, so the more opportunities a parent gets to interact, the better. The benefits of these interactions can be seen in a new study, which found that the less a parent and child partook in family routines, the more likely they were to have emotional and social problems.
Simple family rituals could make all the difference — from eating dinner together to singing along to songs, and reading bed time stories to playing together. Researchers from The Children's Evaluation and Rehabilitation Center (CERC) at the Albert Einstein College of Medicine at Yeshiva University found that the more a child participated in these activities, the more likely they were to be socially and emotionally capable, with implications for future success.
"High social-emotional health has been associated with greater academic performance and improved behavior in the school environment," said Dr. Elisa I. Muñiz, a developmental-behavioral pediatrician at Bronx-Lebanon Hospital Center, in a press release. Muñiz, a former fellow at CERC, led the research. She encourages families of preschool-aged children to "sing, read, play, and eat together on a regular basis," in order to promote "greater social-emotional health."
As infants, children's minds are machines, constantly taking in knowledge and requiring stimulation. As they grow older, they learn more about how to converse, solve problems, negotiate, and plan for gratification later on, Dr. Claire McCarthy, a pediatrician at Boston Children's Hospital, told Reuters. But in order to learn these crucial skills for success, they need that interaction. In another recent observational study, children whose parents were always on their cell phones during mealtimes tended to look like they had lost faith in maintaining some form of communication — their nags for attention were left unnoticed, or they were chastised for more exuberant attempts.
"When you are happy and secure, you are much more able to learn and interact in healthy ways," McCarthy, who wasn't involved in the study, told Reuters. "When (children) are unhappy, insecure, or unsure of their environment, energy goes into dealing with that, and not into learning."
The researchers looked at data from the Early Childhood Longitudinal Study- Birth Cohort, which follows about 14,000 children who were born in 2001. They specifically looked at data on 8,550 kids, whose parents responded to questions about family rituals. These included the frequency with which parents and children ate dinner together and read books together, as well as the other aforementioned activities.
The researchers found that 16.6 percent of the children had high social-emotional health score, with about 57 percent of the kids participating in three or more activities. The researchers found that a kid's chances of having high social-emotional health grew 47 percent with each additional activity they did.
By spending time with their children, parents are able to foster growth in social and emotional wellness that is essential for kids adapting and growing in a school environment. It gives them support when it comes time to deal with school work, interacting with fellow students and teachers, and preparing for tests.
"We believe our study sheds light on the topic," said Dr. Ruth E. K. Stein, interim associate clinical director at CERC, in the statement, "and we encourage pediatricians to discuss the importance of practicing family routines regularly with parents to further enhance children's school readiness."
Source: Muñiz E, Silver E, Stein R. Family Routines and Social-Emotional School Readiness Among Preschool-Age Children. Journal of Developmental & Behavioral Pediatrics. 2014.
Published by Medicaldaily.com