Fast Food Eaten Per Second In America: New Video Showcases Latest Fast Food Statistics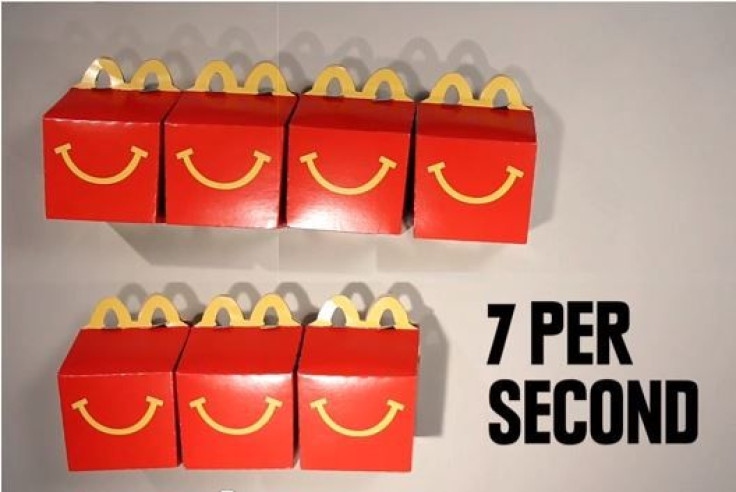 A BuzzFeed video that has gone viral breaks down just how much fast food Americans consume per second. The video highlights some of the top-ranked fast food places in the nation, including McDonald's in the number one spot with $34.2B in sales and Subway at number two with $11.4B in sales, according to Yahoo! Finance.
The video is less than two minutes, but quickly displays the different fast food items that are eaten every second, including 17 of McDonald's Big Macs, in addition to seven Happy Meals sold with their famous red and yellow smiley-faced packaging.
Subway has the greatest number of restaurants globally than any other and still stands as a healthier fast food option with its calorie comparisons to McDonald's burgers printed on their napkins. Subway sold about $2B sandwiches last year alone, and every second nine turkey subs are eaten.
KFC makes $4.5B in sales, less than half as many as Taco Bell, but despite their recent 262 location closures, 25 pieces of KFC's Original Recipe Chicken are still eaten every second, along with six pounds of their mashed potatoes.
The American demand for instant gratification has fed the success of modern fast food restaurants since their inception in 1921 with the Pig Stand, a Texas drive-in restaurant chain. White Castle was the first fast food hamburger chain that opened that same year and now sells 16 White Castle Sliders every second in America.
Fast food items may be selling quickly, but the workers that help sell them have gone on strike seven times in the past eight weeks because of poor work conditions. The strikers, who are in Seattle, are comprised of McDonald's, Burger King, Taco Bell, Subway, Arby's, Chipotle, Qdoba, and Jack in the Box employees. According to The Nation, the strike lasted 24 hours last week as they demanded for the right to form a union as well as an increase in pay. However, the strike forced a Taco Bell, Burger King, and Subway to close down.
The strikes have not yet been shown to affect sales, especially as new and creative menu items, such as the Doritos Locos Taco, keep customers buying. Half a billion of the Doritos shelled tacos have sold since their launch in March 2012, which makes sense since 13 are eaten every second.
Americans will be seeing a new fast food item available at Dunkin' Donuts' drive-thru windows this Friday. The new 360-calorie breakfast sandwich consists of fried egg and bacon between two glazed doughnuts, according to the company's website. Despite the fact that it is 60 calories more than McDonald's Egg McMuffin, it still ranks as the third lowest calorie breakfast sandwich item out of Dunkin' Donuts' nine currently on the menu. The convenience of the breakfast sandwich will most likely outweigh the large 20 g of fat or the 720 mg of salt, based on the success of the fast food industry.
Published by Medicaldaily.com