Fate of Michael Jackson's Doctor Now in Jury's Hands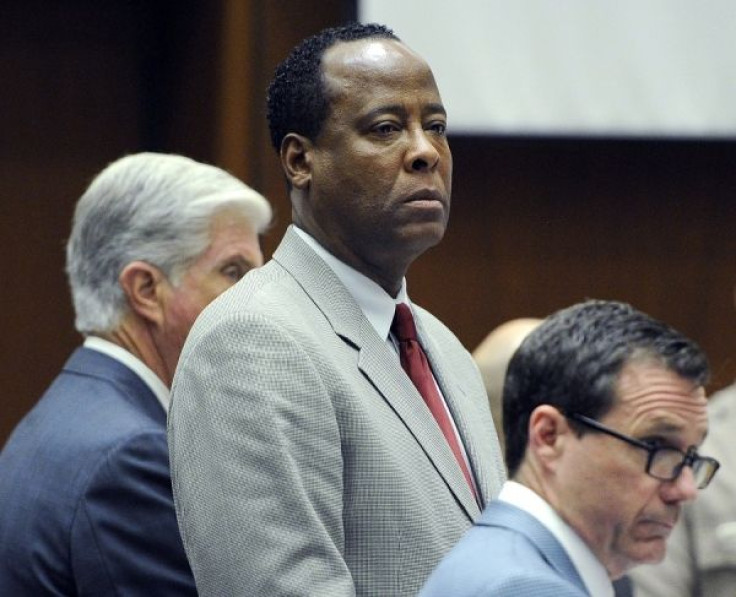 Jurors in the involuntary manslaughter case of Michael Jackson's doctor will get their first chance to talk with each other about the case on Friday, after six weeks on the case.
Their deliberations behind closed doors in a downtown Los Angeles courthouse could lead to the conviction or acquittal of Dr. Conrad Murray on an involuntary manslaughter charge.
Michael Jackson died on June 25, 2009 while in his bed at a mansion he rented in Holmby Hills, Los Angeles. He was pronounced dead by Los Angeles Fire Department paramedics after unsuccessful attempts to resuscitate him. The efforts to save Jackson were made by his personal physician, Conrad Murray at his mansion and paramedics taking Jackson to Ronald Reagan UCLA Medical Center.
Prosecution Blames Murray
Prosecutors and Murray's defense team have argued about whether or not Jackson's death is Murray's fault.
On Thursday, during his closing arguments to jurors, Deputy District Attorney David Walgren projected images of Jackson's grieving children on the courtroom's big screen and told jurors that Murray took away their father, as Jackson's mother and siblings watched from the gallery.
Walgren reminded jurors of the scene in Jackson's bedroom when his daughter, Paris, screamed "Daddy!" while Murray frantically tried to revive her lifeless father.
"For Michael Jackson's children this case goes on forever because they do not have a father," Walgren told jurors the AP reported. "They do not have a father because of the actions of Conrad Murray."
Murray has pleaded not guilty and has said that Jackson took a fatal dose of sedatives and the surgical anesthetic propofol when Murray had left the singer's bedroom on the day he died.
The AP said that, "Walgren portrayed Murray as a greedy opportunist who was more concerned with earning $150,000 a month as Jackson's personal physician and traveling to London for his "This Is It" concert than with the welfare of his patient."
Citing evidence that Murray did not call 911 right away once he found Jackson unresponsive and instead called Jackson's personal assistant, the prosecutor said this was just one of the doctor's bizarre actions and suggested that Murray delayed the call so he could hide medical equipment that might incriminate him.
"He's putting Conrad Murray first. He's intentionally not calling 911. He's intentionally delaying help that could have saved Michael Jackson's life," Walgren said.
"What on Earth could motivate a medical doctor to delay making that all-important call?" he asked. "Self-preservation."
Defense Blames Jackson
But the defense attorney for Dr. Murray, told jurors that the singer caused his own death with an overdose of an anesthetic and that his physician should not be convicted of killing the King of Pop.
The Associated Press reported that defense attorney Ed Chernoff asked during his closing argument:
"If it was anybody else, would this doctor be here today?"
Chernoff said that prosecutors hadn't proven that Murray committed a crime by giving Jackson doses of the anesthetic propofol, the short acting, intravenously administered hypnotic agent, as a sleep aid in the singer's bedroom.
"They want you to convict Dr. Murray for the actions of Michael Jackson," Chernoff said.
He asked the jury to closely consider Murray's interview with police and said his words showed that he didn't give Jackson the deadly dose of propofol.
Walgren said that even after paramedics arrived, the doctor did not mention that he gave Jackson propofol because of "a consciousness of guilt."
Medical Experts Scrutinized
Walgren said that the theory that expert witness Paul White claiming that Jackson injected himself with the fatal dose of propofol was "junk science."
"It was garbage science," Walgren said.
The defense questioned evidence from Dr. Steven Shafer, a propofol expert who testified that evidence showed Murray killed Jackson. Chernoff claims Shafer overstepped his role as a scientist by becoming an advocate for Murray's conviction.
As reported in the AP, Chernoff said that Shafer ignored Murray's statement to police in which the Murray said he gave Jackson a small dose of propofol and left the room after the drug should have worn off.
"It doesn't matter, Dr. Murray did not kill Michael Jackson," Chernoff said.
But the prosecutor showed statements from several doctors who testified that they would never have agreed to give the singer propofol for insomnia in a private home.
"The setting represents an extreme violation of the standard of care," Walgren said. "No one ever did it until it was done to Michael Jackson. It is gross negligence and it is a cause of Michael Jackson's death."
With only Jackson and Murray present in the singer's room on the day he died, there will be things that will never be known about his death, Walgren said. But he said it was clear that Murray, untrained in anesthesiology, was incompetent.
"Conrad Murray is criminally liable," he said. "Justice demands a guilty verdict."
Published by Medicaldaily.com