FDA approves dermal filler to treat acne scarring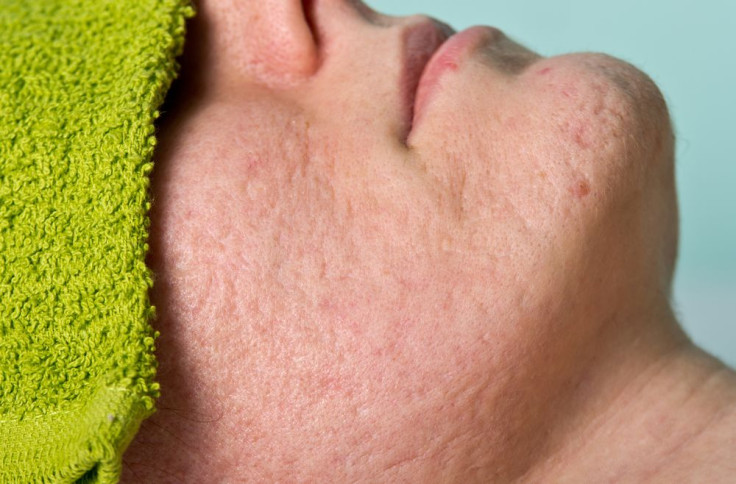 (Reuters) - The U.S. Food and Drug Administration has approved the first dermal filler to treat pitted scarring of the cheek caused by acne, the most common skin disorder in the United States afflicting 40-50 million people.
Bellafill, developed by privately held Suneva Medical Inc, is made primarily of bovine collagen. When injected, it is designed to lift and smoothen scars to the level of the surrounding skin, in patients over the age of 21.
A cure for acne has long eluded drug developers. And despite treatments ranging from topical gels to lasers, nothing so far has satisfactorily treated scarring that affects up to 95 percent of acne sufferers.
A study testing Bellafill against a placebo in 150 acne patients showed a significant improvement in those receiving Suneva's treatment that continued for up to a year, Suneva said on Tuesday.
"Until now, multiple laser treatments or other injectables have been used but are limited both in terms of efficacy and longevity and are hampered by potential side effects," Dr. Ava Shamban, an assistant clinical professor of dermatology at UCLA, who was involved in the Bellafill study, told Reuters.
Approved in 2006 to smoothen "smile lines", demand for Bellafill has grown more that 30 percent a year for the last several years, Suneva CEO Nicholas Teti said in an interview.
Pricing of the acne treatment is likely to be similar to that of the wrinkle treatment at $2,500 for five syringes, Teti said. Dosages would depend on the severity of the scarring.
San Diego-based Suneva, which was formed in 2009 out of the assets of Artes Medical, a publicly traded company that filed for bankruptcy the previous year, plans to launch Bellafill for scarring toward the end of January.
Sanford C. Bernstein analyst Aaron Gal, who covers Botox-maker Allergan Inc, termed Bellafill a "niche" product.
"It provides an interesting solution, but I'm not sure how marketable it is," he said, referring to physician reluctance to prescribe treatments made of animal fats.
Gal also said a "permanent" solution to scarring may not be appropriate because of changes to skin elasticity over time.
For these reasons, he said it was unlikely Bellafill would become "a big drug" such as Allergan's Juvederm and Valeant Pharmaceutical International Inc's Restylane.
Both are based on hyaluronic acid, a substance occurring naturally in the body but not approved to treat acne scarring.
(Editing by Ted Kerr)
Published by Medicaldaily.com