FDA Approves Evzio, Naloxone-Delivering Device, As First-Ever Auto-Injector To Treat Opioid Overdose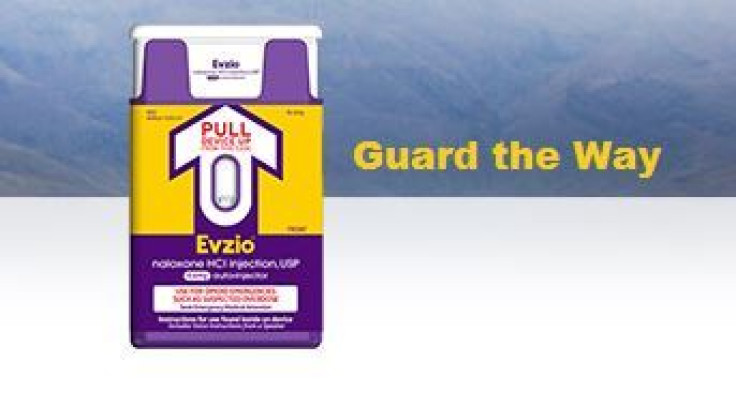 A Virginia-based company's prescription treatment, Evzio, intended for people suspected of overdosing on opioids, was approved Thursday by the Food and Drug Administration. Evzio, from kaléo Inc., is the first and only hand-held device that rapidly delivers a dose of naloxone hydrochloride by injection; the drug/device is meant to be used by a family member or caregiver witnessing signs of an overdose in a patient, such as sleepiness or breathing problems. Evzio is expected to be available this summer. In a blog statement, commissioner Margaret A. Hamburg said the FDA's review of Evzio was granted priority status and reviewed in just 15 weeks.
According to the Centers for Disease Control and Prevention, about 15,500 Americans die each year from prescription opioid overdose — a statistic which has tripled in the past 20 years — while emergency room visits for prescription painkiller abuse or misuse have doubled to nearly 500,000 in the past five years. Opioids are commonly prescribed by doctors to treat pain associated with a variety of acute and chronic medical conditions. "Overdose and death resulting from misuse and abuse of both prescription and illicit opioids has become a major public health concern in the United States," said Dr. Bob Rappaport, director of the Division of Anesthesia, Analgesia, and Addiction Products in the FDA's Center for Drug Evaluation and Research.
The active ingredient in Evzio, naloxone, has been used for years mainly by emergency room professionals for reversal of respiratory depression due to opioid overdose. Once turned on, Evzio provides verbal instruction to a user describing how to deliver the medication, which is injected into the muscle or under the skin. A trainer device is included for family members and caregivers to practice, before an emergency in which the actual device is needed. In a study involving 30 patients, a single Evzio injection provided the equivalent of a single dose of naloxone injection using a standard syringe. Evzio is not a substitute for immediate medical care, and the person administering Evzio should seek further, immediate medical attention on the patient's behalf.
"All patients taking an opioid pain medication accept some risk of potential overdose," said. Dr. Allen Burton, anesthesiologist and pain specialist at Houston Pain Centers. He was further quoted in a press statement released by kaléo as saying, "No medication is side effect free, and potent pain relieving opioids have a narrow window of effectiveness, with some very serious possible side effects including potentially life-threatening respiratory depression."
On its website, kaléo warns that use of Evzio in patients who are opioid dependent may result in severe withdrawal symptoms, including nausea, vomiting, sweating, accelerated heart rate, increased blood pressure, uncontrollable trembling, seizures, and cardiac arrest.
Published by Medicaldaily.com