FDA Approves Tool That Can Accurately Catch Acute Kidney Failure Before It Happens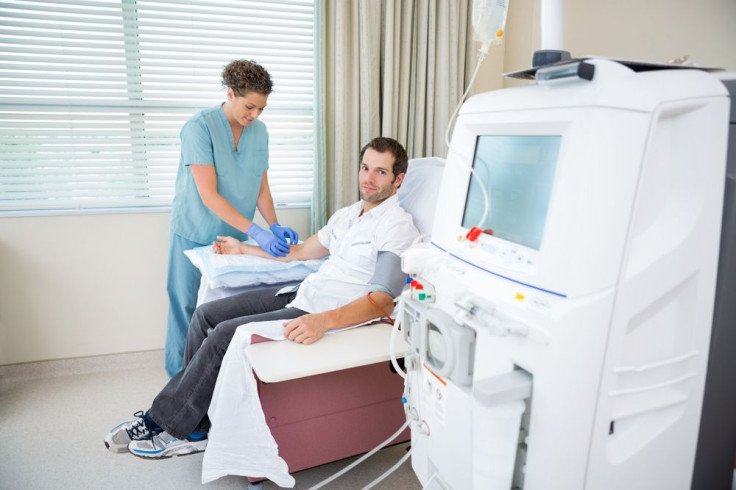 People who are already hospitalized, especially those in critical condition, are particularly at risk for developing an acute kidney injury, also known as acute kidney failure or acute renal failure. On Friday, the Food and Drug Administration approved a ground-breaking tool, dubbed the NephroCheck test, which can accurately predict if a critically ill person will develop a moderate-to-severe acute kidney injury.
"Early assessment and timely treatment for AKI can help prevent kidney damage and potential associated complications," Alberto Gutierrez, director of the Office of In Vitro Diagnostics and Radiological Health at the FDA's Center for Devices and Radiological Health, said in a statement. "The NephroCheck provides health care providers with a quick, validated method of assessing a patient's AKI risk status, which may inform patient management decisions."
The NephroCheck test uses the patient's urine sample to identify two acute kidney injury indicators: insulin-like growth-factor binding protein 7 (IGFBP7) and tissue inhibitor of metalloproteinases (TIMP-2). After 20 minutes, a score based on the amount of proteins detected through the urine determines the patient's risk of developing acute kidney injury within 12 hours of taking the test. Laboratory tests currently available to doctors are only able to diagnose whether a patient is suffering from acute kidney injury at that time, and the patient tends to progress to moderate-to-severe before tests are completed.
A recent study carried out by researchers from the University of California, San Francisco (UCSF) found that the number of severe acute kidney injuries in the United States have continually risen by 10 percent each year and doubled over the past decade. Around 30 percent of acute kidney injury cases related to this growing epidemic were attributed to the rise in severe infections, ventilator usage, acute heart failure, and cardiac catheterizations over the past 10 years.
"That was a staggering revelation of how increasingly common and how life-threatening acute kidney injury has become over the past decade in the United States," Dr. Raymond K. Hsu, a UCSF nephrologist who led the research, said in a statement. Acute kidney injury is the result of a sudden decline in kidney function that usually develops without any signs or symptoms. They can cause fluid buildup, chest pain, muscle weakness, and permanent kidney damage/chronic kidney disease.
Published by Medicaldaily.com