FDA Finally Approves The First Drug To Treat Rare Genetic Disease, Hereditary Angioedema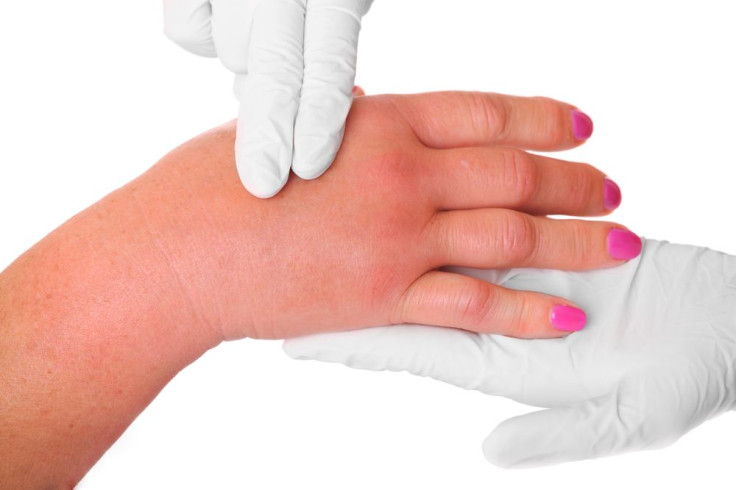 The majority of drugs used to treat hereditary angioedema (HAE), a rare and potentially fatal genetic disorder, are limited to treating only adults suffering from the condition. On Thursday, the Food and Drug Administration announced its approval of Ruconest, the first human recombinant drug of its kind capable of treating acute attacks caused by hereditary angioedema in both adults and adolescents over the age of 13.
"Hereditary angioedema is a rare and potentially life-threatening disease," Dr. Karen Midthun, director of the FDA's Center for Biologics Evaluation and Research, said in a statement. "Today's approval provides an important treatment option for these patients." Manufactured by Netherlands-based Pharming Group NV, Leiden, Ruconest is marketed as the first human recombinant C1-esterase inhibitor purified from the milk of genetically modified rabbits. The first of its kind HAE treatment restores functional C1-esterase inhibitors in plasma-deficient patients. Clinical trials conducted on 44 adult and adolescent patients reported successful treatment of acute attacks with minimal side effects that included headaches, nausea, and diarrhea.
According to the U.S. Hereditary Angioedema Association, HAE causes severe swelling of the hands, feet, face, and airway. Patients can also suffer from sharp abdominal pain, nausea, and vomiting. HAE experts warn patients to be especially cautious about airway swelling due to potential death caused by asphyxiation. Between one in 10,000 and one in 50,000 people in the U.S. are affected by HAE, which is caused by a defect in the gene that controls a blood protein called the C1 Inhibitor.
The mortality rate for airway obstruction caused by HAE reached as high as 30 percent prior to the introduction of therapy options. Acute attacks generally occur spontaneously with provocation. HAE experts have cited anxiety, stress, minor trauma, surgery, and illness such as the cold or flu as possible trigger for an attack. Patients have also reported attacks following moderate to intense physical activity, including typing, writing, yard work, and athletics.
Published by Medicaldaily.com