FDA Warns Parents To Avoid Use Of Homeopathic Teething Remedies; Treatments May Trigger Seizures In Children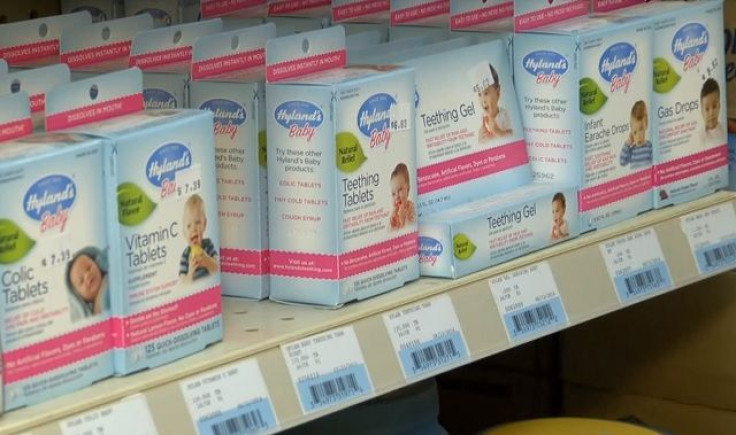 There's no reason for homeopathic teething tablets and gels to be in your child's life, advises the Food and Drug Administration (FDA), and plenty of alarming ones why they should steer far away from them.
Over the weekend, the FDA issued a stark warning against the use of these products, commonly found online and in pharmacy chain retailers such as CVS and Walgreens. The particularly bold recommendation comes on the heels of numerous reports made to the FDA concerning health risks from these products, including seizures, difficulty breathing, and muscle weakness, among many others. In light of that, the agency is not only asking parents to avoid buying these items but to throw out any already in their possession.
"Teething can be managed without prescription or over-the-counter remedies," said Dr. Janet Woodcock, director of the FDA's Center for Drug Evaluation and Research, in a statement. "We recommend parents and caregivers not give homeopathic teething tablets and gels to children and seek advice from their health care professional for safe alternatives."
In 2010, the FDA issued a specific advisory over a brand of homeopathic teething tablets sold by Hyland's, a long time retailer of homeopathic remedies. The advisory focused on the product's inclusion of belladonna as an active ingredient, a plant once commonly used as a makeshift muscle relaxant but which can be toxic and even deadly in high enough doses.
Typically, homeopathic remedies are advertised as having its active ingredients in small enough doses that couldn't pose any danger to anyone. So minuscule, critics and health organizations around the world have argued, that the treatments are essentially glorified placebo pills marketed as real medicine. Ironically enough, research has shown that many homeopathic treatments, along with herbal and dietary supplements, are improperly produced and oftentimes contain amounts of an ingredient that vary drastically from bottle to bottle.
The 2010 advisory noted that an inspection of the factory where the teething products were made found "substandard control of the manufacturing operation," and the products' manufacturer. Standard Homeopathic Company, agreed to a voluntary recall at the time. In its latest warning, the agency explained it had continued to receive health complaints from using homeopathic teething products since 2010. In 2015, a Texas mom stepped forward and claimed Hyland's teething tablets had caused her daughter to develop seizures.
The agency is currently investigating these reports as well as testing product samples. In a response issued by Hyland's, the company stated the FDA's decision was a surprise to them and denied that the teething products presented any danger to infants and young children.
"We are fully cooperating with FDA's investigation and we're providing them with all the data we have," Hyland's statement read. "We also hope to learn from FDA what facts, if any, the agency has based its action on."
Published by Medicaldaily.com