FDA: Spinbrush Toothbrush Can Break Teeth and "Cause Choking"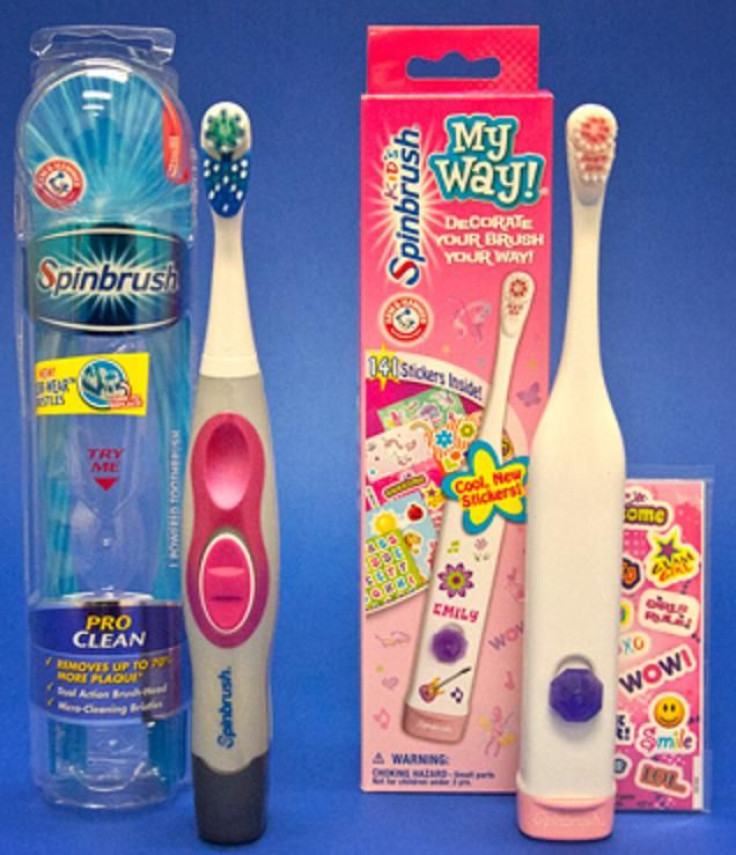 Popular Spinbrush electric toothbrush models can cause serious face and mouth injuries, U.S. health officials warned on Thursday.
U.S. Food and Drug Administration said that parts of the Arm & Hammer Spinbrush, previously called Crest Spinbrush before 2009, have been popping off and causing injuries like chipped or broken teeth, cuts to the mouth and gums, choking on broken pieces, and injured face and eyes.
"Electric toothbrushes can be very effective in removing dental plaque, and so they can help prevent dental decay and gum disease," Susan Runner, chief of FDA's dental devices branch, said in a statement. "At the same time, it's important to supervise children when they use these brushes, and to look out for any malfunctions of the toothbrush that might cause an injury."
The agency applied its warning to the following models of toothbrushes: Spinbrush ProClean, SpinBrush ProClean Recharge, SpinBrush Pro Whitening, SpinBrush SONIC, Spinbrush SONIC Recharge, Spinbrush Swirl, Spinbrush Classic Clean, Spinbrush for Kids and the SpinBrush Replacement Heads.
The public health officials explained that versions of the battery-powered toothbrushes have replaceable heads that are not supposed to come off during use, but the FDA has received reports that the brush head popped off to expose metal pieces underneath that poked users in the cheek and areas near the eyes, causing injuries.
The FDA said that although kids' Spinbrushes don't have removable heads, the agency has received reports of the batteries burns, cut lips, and toothbrush bristles coming off and getting stuck in children's tonsils.
"FDA's concern is that the unexpected release of any part of this battery-powered toothbrush during use poses a risk of injury," said Steven Silverman, director of the Office of Compliance in FDA's Center for Devices and Radiological Health in a statement. "And the risk is higher in children or adults who may need assistance but are not supervised while using the toothbrush."
In 2010, FDA also issued a warning on the Oral-B CrossAction Power and PowerMAX toothbrushes after receiving reports that the brush heads of the two models became loose in the mouth during brushing, which the agency said could pose a choking hazard.
Health Canada, a Canadian federal health department, also warned people to stop using Colgate Motion Electric Toothbrushes after officials received reports that the toothbrushes "exploded" last November.
Published by Medicaldaily.com