FDA Warning On 'HeartStart' Defibrillators From Philips Healthcare: Defective Electrical Component Cited As Source Of Malfunction
The U.S. Food and Drug Administration (FDA) announced a "recall" on Tuesday of defibrillators made by Philips Healthcare, saying some of the devices may be unable to deliver an electrical shock in a cardiac emergency.
In a safety advisory, the regulator issued recommendations for the inspection of their devices, in addition to advice on using a recalled device in an emergency situation, if need be, says Steve Silverman, director of the office of compliance at the FDA's Center for Devices and Radiological Health.
"The FDA advises keeping all recalled HeartStart AEDs in service until you obtain a replacement from Philips Healthcare or another AED manufacturer, even if the device indicates it has detected an error during a self-test," he said in a statement. "Despite current manufacturing and performance problems, the FDA considers the benefits of attempting to use an AED in a cardiac arrest emergency greater than the risk of not attempting to use the defibrillator."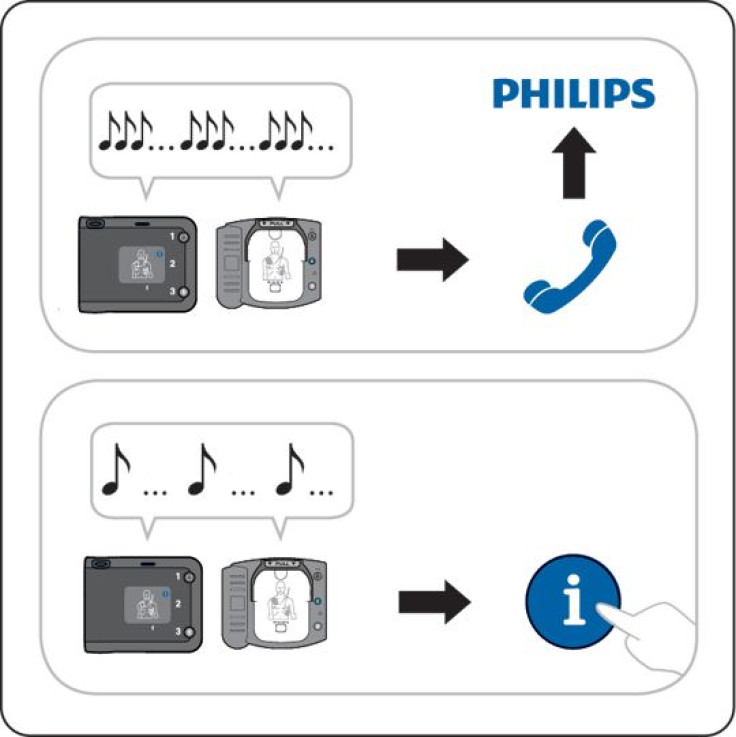 The recalled devices were made and distributed from 2005 to 2012 under the brand names HeartStart FRx, HeartStart HS1, and HeartStart OnSite (HS1). Consumers should contact Philips Healthcare, the parent company, for immediate replacement. The announcement follows the September 2012 recall of those three devices, which affected 700,000 units. Just prior to this latest recall, Philips sent consumers updated information about a defective internal electrical component causing some units to fail.
The FDA said it would continue to monitor manufacturers for quality system practices and manufacturing changes that led to the recent recalls.
Every year, the use of automated external defibrillators saves the lives of thousands of people experiencing a cardiac emergency. Although discovered in the late 19th century, William Bennett Kouwenhoven tweaked the technology to invent a device in 1957 that would shock the patient without open-cavity surgery, prompting Johns Hopkins Hospital to immediately adopt the device as a standard first-line treatment for cardiac arrest.
But those devices still required some training to operate. In recent years, however, the automated external defibrillator has allowed untrained responders — even just random passersby — to use strategically placed devices to save someone's life. Unlike manual defibrillators, an automated device requires minimal instruction to use. The strategic placement of the devices by consumers and businesses brings life-saving first aid much closer to a heart attack, allowing a layperson to essentially jumpstart the heart while waiting for emergency medical help.
Automated external defibrillators administer a shock after assessing heart rhythm, with some semi-automatic versions requiring the user to press a button to deliver the shock. However, those versions also allow the user to manually override the system to deliver a shock, regardless of how the machine interprets — or misinterprets — a patient's vitals.
Some 300,000 Americans collapse from sudden cardiac arrest every year.
Published by Medicaldaily.com