FDA Warns Kim Kardashian About Promoting Drug On Instagram; The Problem With Direct-To-Consumer Advertising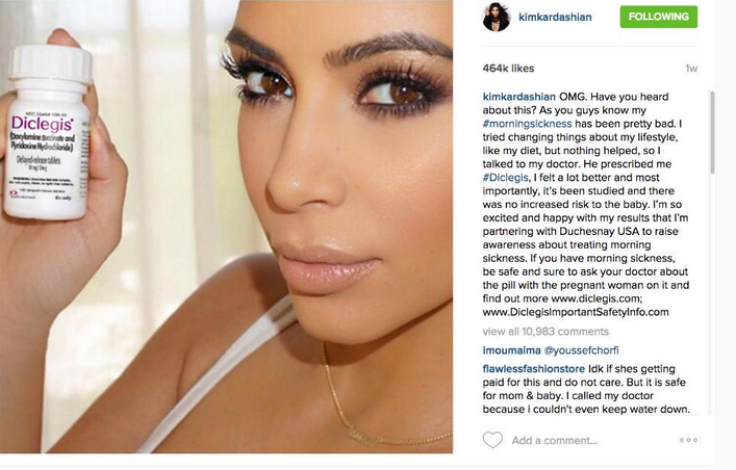 A post on Kim Kardashian's Instagram promoting the morning sickness drug Diclegis received a warning from the Food and Drug Administration this week for violating federal drug promotion regulations. Although the drug's manufacturers have addressed the problem, the situation highlights an even bigger issue: America's problem with direct-to-consumer drug advertising.
In July, Kardashian posted an image to her 42 million Instagram followers promoting Diclegis, a prescription drug for morning sickness.
"I tried changing things about my lifestyle, like my diet, but nothing helped, so I talked to my doctor," the post states. "He prescribed me #Diclegis, and I felt a lot better and most importantly, it's been studied and there was no increased risk to the baby."
Although the post did advise readers to discuss the drug with their doctor and contained a link to the company's website, which listed the FDA-approved labeling information, it failed to mention any of the drug's adverse side effects, CBS News reported. According to Diclegis' website, the most common of these side effects is drowsiness, which can make it dangerous to drive or perform other tasks that require mental alertness. Kardashian also failed to explain that Diclegis has not yet been approved for use in women with excessive and prolonged vomiting, such as that caused by hyperemesis gravidarum, a debilitating form of morning sickness. On Tuesday, the FDA posted an online letter stating that Kardashian's post was in violation of FDA regulations requiring advertisers to balance benefit claims with information about the drug's risks, even when space and time is limited.
Kardashian has since removed the post but the situation highlights the much more serious problem of direct-to-consumer advertising (DTCA) of pharmaceuticals. According to the American Academy of Physician Assistants, DTCA is the "promotion directly to potential patients of prescription drugs through newspaper, magazine, television, and Internet marketing."
While Americans may be used to being bombarded with endless drug advertisements during late night TV commercials, DTCAs are prohibited in every country except the United States and New Zealand. According to the AAPA, one of the main problems with this type of advertising is that it is primarily emotional in style, understates adverse side effects, and largely misleads when it comes to claimed health benefits.
The FDA reports that most doctors agree DTCAs have had a negative effect on their practice and patients. For example, 65 percent believe DTCAs confuse patients about the relative risks and benefits of prescription drugs and eight percent of doctors admitted they felt very pressured to prescribe the specific brand-name drug when asked.
Research has shown that simply seeing the image of a popular celebrity in the vicinity of a product can boost sales, making celebrity drug advertisements even more powerful. Unfortunately, celebrities are not always very careful in their advertising choices. For example, in 2014, actress Gwyneth Paltrow promoted a "detox diet" that was immediately slammed by dieticians and nutritionists as being comprised of "basically no food or nutrition," and being a "starvation-type diet," Radar Online reported.
That said, doctors also agreed that DTCA has changed the way they and their patients communicate for the better, and has prompted patients to ask more questions. Diclegis' manufacturer, Canadian-based pharmaceutical company Duchesnay, openly addressed the error in advertising and in a recent statement promised to "take quick action in responding to the FDA's letter and immediately and effectively address any issues." Duchesnay told CNBC that while Kim was paid to promote her experience with the drug, she had found it on her own accord through her family OB-GYN. Neither Kardashian nor her publicist has commented on the situation.
Correction: The story has been ammended to correctly reflect the title of the American Academy of Physician Assistants.
Published by Medicaldaily.com