FDA Warns Uterine Fibroids May Spread Hidden Cancer When Removed By Traditional Procedure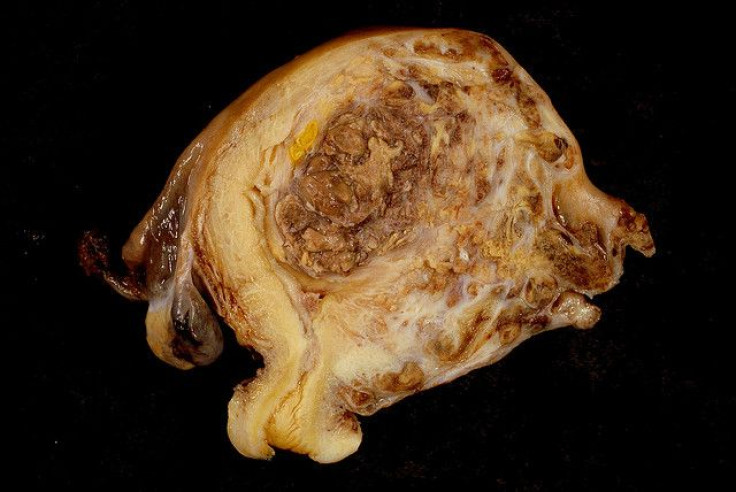 The Food and Drug Administration (FDA) announced Thursday its warning against the use of laparoscopic power morcellation, a technique used to remove a woman's uterus or non-cancerous fibroids found in the uterus, as evidence suggests the technique may cause undetected cancers to spread throughout the body.
Uterine fibroids are growths found on the inside of the uterine wall. Most are non-cancerous, but roughly one in 350 women undergoing a hysterectomy or myomectomy (fibroid removal) will have an unsuspected form of cancer called uterine sarcoma. Essentially, power morcellation chops these fibroids into tiny pieces, which surgeons can remove more easily through one incision in the abdomen. Unfortunately, the process is rarely so easy.
"You don't even have to be a doctor to recognize that if tissue or a tumor has malignant potential, you should not mince it up inside someone's body," Dr. Hooman Noorchashm, a Harvard-based cardiothoracic surgeon, told The Washington Post. "That's just bad medicine."
The FDA isn't hoping to use its new warning as leverage in banning the procedure or the roughly two dozen devices approved by the agency, but hospitals are likely to abandon the procedure in their practices. Uterine fibroids on their own rarely lead to cancer; instead they produce uncomfortable symptoms, such as heavy menstrual bleeding, pelvic pain, and frequent urination, all of which may require surgery.
"The FDA's primary concern as we consider the continued use of these devices is the safety and well-being of patients," said Dr. William Maisel, chief scientist at the FDA's Center for Devices and Radiological Health, in the agency's news release. Alternative forms of fibroid removal include myomectomy without morcellation and hysteroscopy.
Most women will have a uterine fibroid at some point in their lives, the National Institutes of Health points out. Importantly, the presence of a fibroid doesn't mean that it needs removal. However, of the roughly 500,000 hysterectomies performed in the U.S. each year, 11 percent involve laparoscopic power morcellation. Some doctors opt to mediate the morcellation risk with the use of isolation "bags," which are designed to trap any errant tissues.
The FDA makes several recommendations to both patients and physicians with how to discuss and implement the proper treatment. Physicians, for their part, should inform patients about all the potential risks involved with laparoscopic morcellation, particularly that the patient may have undetected cancerous tissue within the uterine fibroids. If cancer is suspected, power morcellation is the wrong treatment method, as it effectively takes a knife to a beehive.
Patients, too, should be diligent in making sure they learn all they can about fibroid removal. Understand the risks and benefits in your particular case, and ask if there are more removal options than the most invasive one. According to Maisel, the FDA is also considering further steps it can take to ensure women are protected from a dangerous procedure. Upcoming is a public meeting of the Obstetrics and Gynecological Medical Devices Panel to discuss information related to power morcellation.
"We anticipate the discussion will include whether a boxed warning related to the risk of cancer spread should be added to the product labeling for laparoscopic power morcellators," he said, "to ensure patients and health care professionals are adequately informed of the risks."
Published by Medicaldaily.com