FDA's Approval Of PillCam Makes Colonoscopies As Easy As Swallowing A Pill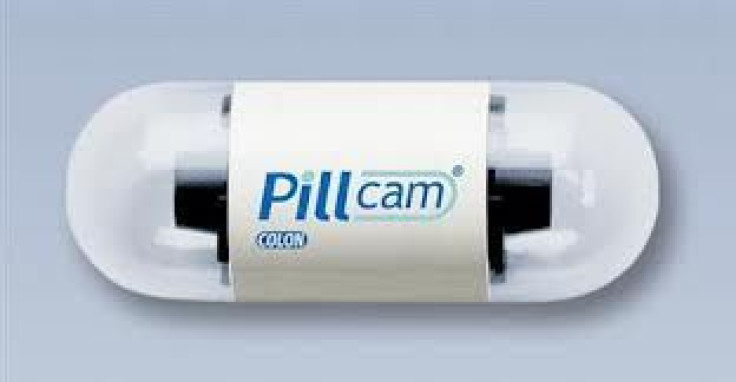 Checking for colon cancer by way of a colonoscopy can be an uncomfortable experience for the patient and can usually run them upward of $4,000. On Monday, the Food and Drug Administration approved the PillCam Colon, an easier way to check for colon cancer via a pill-sized camera that is simply swallowed and passes gently through the patient's gastrointestinal tract.
"PillCam COLON will improve patient care by offering a new and effective colon imaging option for patients who have experienced an incomplete colonoscopy," Dr. Douglas Rex, from the Indiana University Hospital, said in a statement. "Among the limited alternatives available after incomplete colonoscopy, PillCam COLON gives us a minimally invasive, radiation-free option that provides endoscopic images of the same basic type that have made colonoscopy so useful."
Manufactured by one the world's leading GI medical device companies, Given Imagin Ltd., the PillCam features two color video cameras with a battery and LED light that measures 12 mm x 33 mm. After the device is swallowed by the patient, a video is recorded capturing the entire GI tract, including the colon, for the next 10 hours. RAPID software transfers data from the video capsule to a computer for the gastroenterologist's viewing pleasure.
The PillCam, already approved by 80 countries including Japan, Canada, Australia, and others in Europe, Asia, and Latin America, was recently tested in clinical trials that set out to determine the device's accuracy and safety. Researchers performed 16 on site clinical trials including 884 patients. In detecting adenomas of six millimeters or larger, the PillCam recorded 88 percent for sensitivity and 82 percent of specificity. The device is currently priced at $500, The Associated Press reported.
"We have made tremendous strides in increasing the number of people who are getting screened for colon cancer, starting at age 50 for the average risk individual," explained Eric Hargis, CEO of the Colon Cancer Alliance. "Colonoscopy is the most comprehensive option, but for up to 10 percent of individuals, achieving a complete colonoscopy may not be possible. For those individuals, PillCam COLON capsule endoscopy could be an effective option to allow their gastroenterologist to complete a colon examination."
A colonoscopy involves a long and narrow tube that is fitted with a tiny light and camera, also known as a scope, and placed inside of a patient's rectum to view any swollen tissue, ulcers, or polyps. Around 750,000 colonoscopies are considered incomplete each year due to a patient's history of abdominal surgery, abnormal or enlarged colon, or any disease affecting the colon.
According to the American Cancer Society, colon cancer, also known as colorectal or rectum cancer, is a cancer that affects part of a patient's GI tract. Approximately 96,830 new cases of colon cancer will be diagnosed in 2014, making it the third most common cancer among men and women. Colorectal cancer is expected to cause 50,310 deaths in 2014, a number that is significantly less than what it was 20 years ago. Earlier screening and quicker treatment of colorectal cancer has saved over one million lives in the U.S.
"The clearance of PillCam COLON by the FDA represents a pivotal moment in the evolution of Given Imaging as a GI medical device leader," said Homi Shamir, president and CEO of Given Imaging. "This important event caps a string of significant regulatory milestones for our company including clearance of PillCam COLON in Japan and PillCam SB 3 in both the U.S as well as Japan. We look forward to working closely with the U.S. gastroenterology community to bring this clinically-proven, diagnostic tool to patients who need to have a thorough colorectal exam following an incomplete colonoscopy."
Published by Medicaldaily.com