Feast Your Eyes On The 9-Pound, $50 'Big Fat Fatty' Sandwich [VIDEO]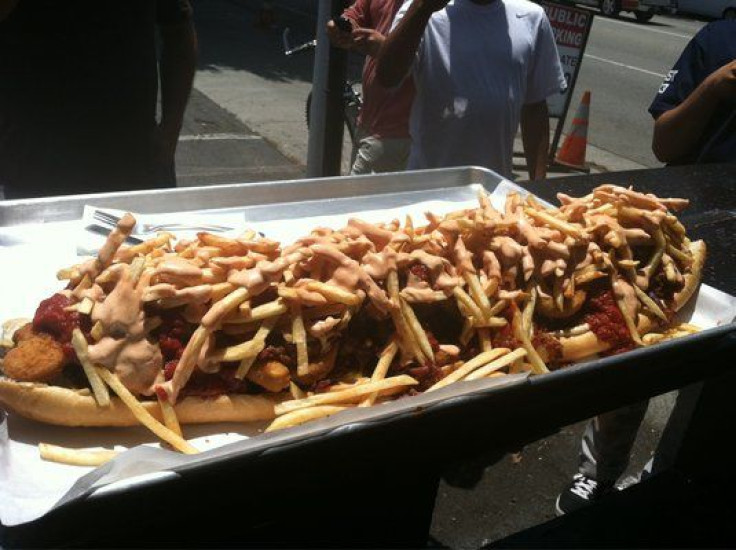 Five cheeseburgers, 1.5 lbs. of pastrami, 1.5 lbs. of cheesesteak, 10 chicken fingers, 10 onion rings, 10 jalapeno poppers, bacon, five fried eggs, two cups of chili, two cups of marinara sauce, a basket of french fries, and a cup of "fat sauce" on a 27-inch garlic hero.
That wasn't the dinner order for a party of 10; it's just one menu item at the Southern California over-the-counter restaurant Fat Sal's.
The aptly named "Big Fat Fatty" sandwich is not recommended for anyone with a weak stomach. In fact, the 9-lb. behemoth is only available for a customer taking on the deli's eating challenge.
Competitors who finish this calorie-packed concoction in under 40 minutes get the $49.95 sandwich for free and an opportunity to create and name their own "fat sandwich."
But don't get your hopes up. According to Josh Stone, who owns Big Sal's along with Entourage star Jerry Ferrara, only two out of 700 to 800 people have completed this challenge. Stone said those two brave souls were both professional competition eaters.
"I knew that I wanted to have a competition sandwich," Stone told NBC7 San Diego.
"I knew that I wanted to attract an adventurous man, woman, child."
Fat Sal's currently operates at three locations in Hollywood, San Diego, and Westwood.
Published by Medicaldaily.com