Female Orgasm Secret: Thoughts Of Sexual Pleasure Lead To Better Sex For Women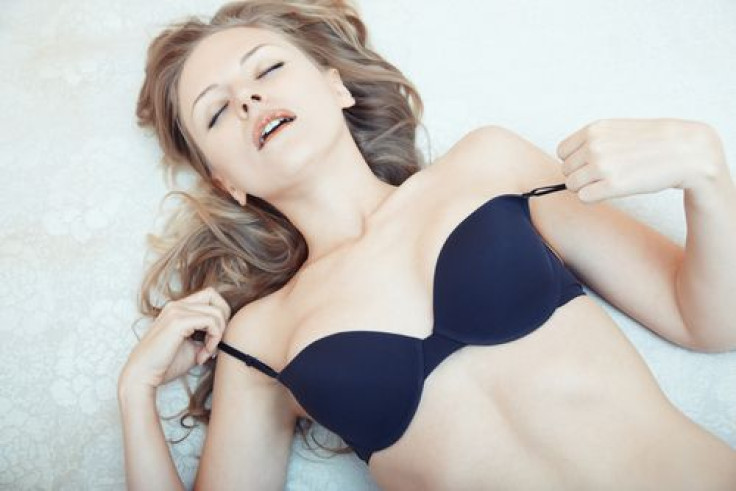 Men and women alike have endlessly sought to unlock the secrets of the female orgasm by either adding new techniques to foreplay, or trying Kama Sutra-esque positions. When it comes to turning up the heat in between the sheets, some men and women have it all wrong, and should actually skip the foreplay. According to a recent study published in the journal Sexologies, women who think erotic thoughts and focus on body sensations during sex have a higher probability of achieving an orgasm.
Sexual pleasure is derived from the combination of sensory and psychological signals, suggesting sexual desire and orgasm are influenced by the brain and nervous system, which controls the sex glands and genitals. Orgasms for men and women produce widespread brain activity, implying it's not just contingent on the physical, but psychological and psychosocial factors as well. Previous research has found the mind actually does play a prominent role in orgasmic pleasure and satisfaction in comparison to sensory aspects of an orgasmic experience.
To observe whether the cognitive aspect of an orgasm is important to women, researchers at the Human Sexuality Research Laboratory at the University of Ottawa, and the University of Louvain in Belgium, recruited a large cohort of French women who were between the ages of 18 to 67. All 251 women polled were sexually active and had a frequency of sexual activity between two and 90 times per month.
The group consisted of 176 women who considered themselves as "orgasmic," meaning they regularly had orgasms during sex, and 75 women who considered themselves as "not orgasmic," meaning they reported having difficulties climaxing during sex with their partners. The participants polled answered questions about the emotions, thoughts, and behaviors that play a role in being able to orgasm, during both sex and self-stimulation.
The findings revealed the orgasmic experience is cognitive-affective, placing the importance on psychosocial determinants. Pascal De Sutter, study author, and a professor at the department of sexology and family science at the University of Louvain in Belgium, found both groups of women did not report difficulties focusing on erotic fantasies when it came to self-stimulation without their partners present. "It seems that women have no problem" focusing on erotic fantasies when they are on their own, De Sutter told LiveScience.
However, during intercourse, the "not orgasmic" women expressed difficulties focusing their attention on the present moment when they have sex with their partners. De Sutter believes concerns about their looks and weight could be flooding their consciousness, not allowing them to experience sexual pleasure. Unsurprisingly, women who reported to be "orgasmic," had less sexual distress and more pleasure in their sex life in general. These findings suggest the ability to focus the mind directly impacts sexual performance.
The researchers found when it comes to the female orgasm, age is not just a number. De Sutter and colleagues found a sexual learning curve exists when it comes to reaching an orgasm. The older women in the study reported far less difficulty in achieving an orgasm than their younger counterparts.
Elke Reissing, the director of the Human Sexuality Research Laboratory at the University of Ottawa, believes the new findings could help women, specifically those with sexual dysfunction, to use certain techniques to improve their ability to focus on the physical sensations. "There is some evidence in the literature that suggests that mindfulness approaches to the treatment of sexual dysfunction can be quite successful," she said, the Daily Mail reported.
Mindfulness techniques may help 40 million women who are affected by female sexual dysfunction (FSD) in the U.S., according to the Cleveland Clinic. Low sexual desire, sexual arousal disorder, orgasmic disorder, and sexual pain disorder are the types of FSD that exist. Currently, treatment for FSD aims to address medical, as well as relationship and emotional issues.
Source: Day J, de Sutter P, Heeren A, Adam F. Development of the Sexual Five-Facet Mindfulness Questionnaire (FFMQ-S): Validation Among a Community Sample of French-Speaking Women. Sexologies. 2014.
Published by Medicaldaily.com