Fertility Clinics Allow Gay Couples To Tag-Team Pregnancies, Using Both Partners' Sperm Or Eggs During Fertilization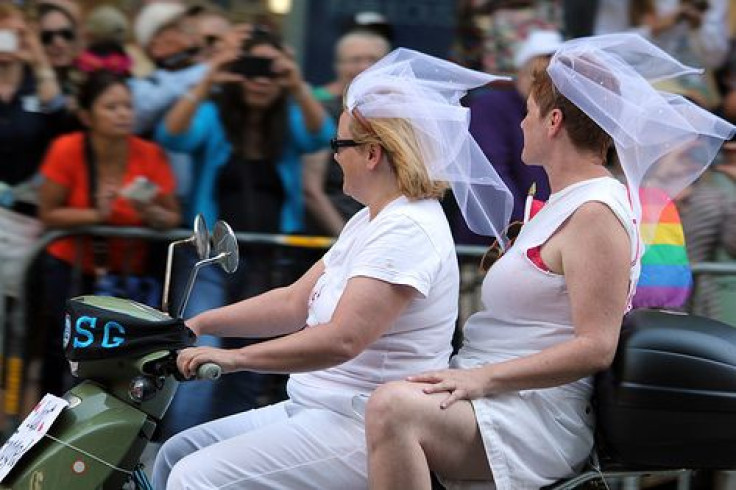 Lesbian and gay couples can enjoy a new method of fertilization, the Associated Press reports, one that utilizes both partners' eggs or sperm during fertilization.
Two-mom approaches are quickly gaining ground as the go-to method for homosexual couples looking to conceive. Rather than leave one partner out in the cold, women are opting for a tag-team approach: one partner uses donor sperm to fertilize her eggs, which then get implanted into the other partner's uterus for pregnancy. The process, while costly, has been granting same-sex couples the opportunity to involve one another in a process that normally leaves one feeling left out.
"It allowed us both to participate," 40-year-old Sarah Marshall told the AP. Sarah and her partner, Maggie Leigh Marshall, 35, both want children; however, it's Sarah who wants to do the actual child-rearing. So to involve them both, Maggie volunteered her eggs for fertilization. "I had to mentally and psychologically give up the idea of, is she going to look like me or my family. But from the time I started carrying her up to now, she is definitely mine."
Unfortunately, the pair has already sunk $100,000 into multiple attempts before it was finally a success last weekend. A single in vitro fertilization attempt costs anywhere from $15,000 to more than $20,000, according to the AP, depending on how much testing the embryo goes through and whether a clinic freezes multiple embryos for batch testing.
But thanks to the new method, Sarah and Maggie can both be listed as parents on their 18-month-old's birth certificate.
For men, the services are admittedly different. While pregnancy inevitably requires a surrogate mother, doctors have been able to use both partners' sperm in fertilizing a donor egg. This typically results from the partners opting for multiple children; in the end, only one sperm, and the DNA it carries, can fertilize a given egg.
"The modern family is created in a way that would be humbled by traditional fertility treatments," said Dr. Alan Copperman, medical director of Reproductive Medicine Associates, at a recent fertility conference in Boston on new methods for same-sex couples to conceive. "We're seeing more and more couples come in and want to share the parenting experience."
Copperman commented that many of the mothers he sees refer to themselves as the other's "wife," rather than "domestic partner." It's a trend, he says, that's quickly gaining traction around the country. Reproductive law specialist, Melissa Brisman, echoed Copperman's observations, saying that many lesbian couples have begun opting for the service if they can afford it.
However, "some doctors really have a problem doing this for non-medical reasons," she said.
Popularity has also risen in the U.S. as more conservative countries see their gay and lesbian citizens seeking services that are otherwise unavailable at home.
"We get same-sex couples from all over the world," Roger Good, chief executive officer of HRC Fertility, which runs nine clinics in Southern California, told the AP. Good's clinic has seen roughly 65 women and 275 men or gay couples receive treatment in the last year.
In the U.S. "there is greater awareness and acceptability," Good says, and for foreign-born same-sex couples, "less prejudice has allowed them to look at what their options are."
Published by Medicaldaily.com