First Derm App Allows You To Discreetly Send Genital Selfies To A Doctor For STD Diagnosis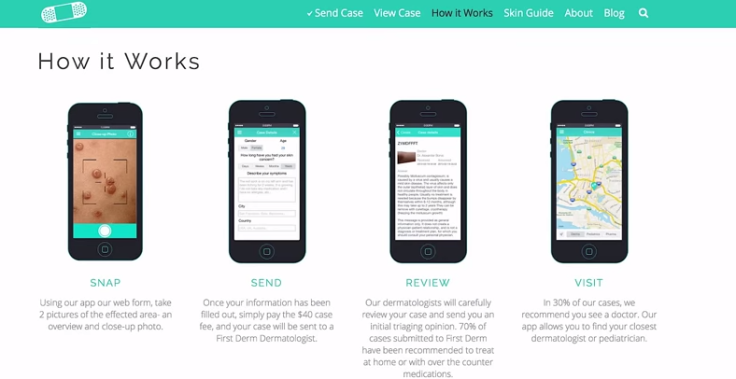 As the age of digital healthcare continues to develop, smartphones and the internet are becoming both the patient and the doctor's best friends for quick and easy medical solutions. Now, with the First Derm app, patients don't even have to leave their home to receive a sexually transmitted disease (STD) diagnosis. For $40, users can take a photo of their genital area and send it to a board-certified dermatologist for an anonymous STD diagnosis.
Powered by Swedish digital health company, iDoc24, First Derm has already helped over 4,000 users get an expert opinion regarding their skin condition. According to its website, First Derm's youngest users have been 3-days-old, and its oldest: 93 years old. While the app can help users identify a skin condition on any part of their body, founder Alexander Borve told TechCrunch that 70 percent of photos come from "below the waist."
First Derm users are asked to simply take two pictures of the affected area including an overview and a close-up photo. Next, they fill out a quick information sheet including their gender, age, how long they've been dealing with the concern, and any symptoms they may be experiencing. As soon as the dermatologist has reviewed the patient's case, they receive an opinion based on the severity of their condition. Around 70 percent of cases reviewed by Frist Derm receive an over-the-counter medication recommendation while 30 percent require that the patients see a doctor.
The app also allows users to find a dermatologist or pediatrician nearest to their location. First Derm specialists can provide a diagnosis and information pertaining to over 90 different skin conditions including Lyme disease, genital herpes, hemorrhoids, human papillomavirus, psoriasis, syphilis, and yeast infections. Users can expect a response from a dermatologist in less than 24 hours.
Published by Medicaldaily.com