Fit For Life: Twin Brothers Lewis And Owen Harrison Follow Extreme Diet and Exercise Regimens For Identical Physique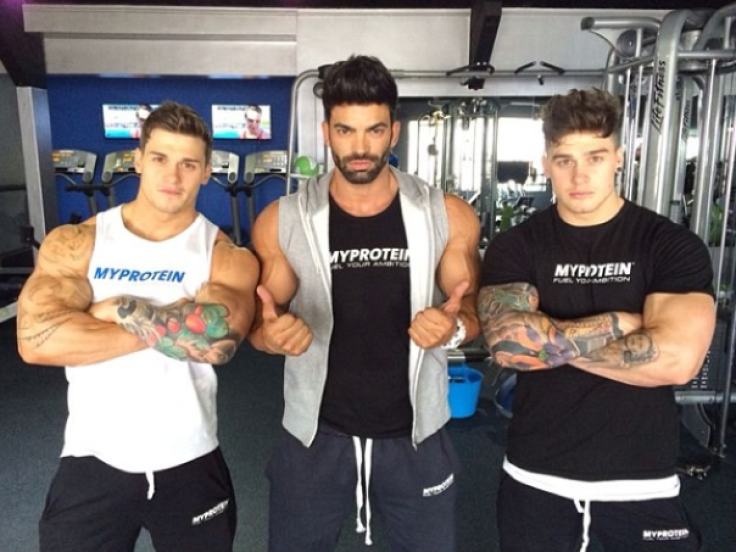 As the axiom goes, a family that works out together stays together. Identical twin brothers from the UK have gone to extreme lengths to make sure everything about them is the same, including their physique. Twenty-three-year-old fitness twins Owen and Lewis Harrison share the same body measurements with their 44-inch chests, 18-inch arms, and 32-inch waists by following the same diet and exercise regimens, landing sponsorship deals with MyProtein, Body Engineers, and Vascular Wear.
"We lived together, trained together, and ate all the same things at the same time. It was full on," said Lewis, the Daily Mail reported. "We would go to the supermarket together and get all our groceries in. Then we would stay up after work to prepare the next day's meals. ... We would even weigh out our individual meal portions carefully so that they were exactly identical."
The Harrison twins did not aspire to become bodybuilders. The duo began to work out together at age 15 when they were signed to European football team, the Bolton Wanderers. "At that point though, it was not about bodybuilding. We just trained to get fitter to play football," Lewis told the Daily Star earlier this year.
After completing their service in the Royal Marines Corps, the twosome began to work out six to seven times a week, spending roughly $700 per month on protein supplements, gym memberships, and spray tanning. Owen and Lewis made sure they were doing exactly the same exercises and reps as each other to prevent any differences in their workouts. To test the effectiveness of their workouts, they conduct fitness and strength tests to see if they match their results.
The fitness gurus typically eat eggs or oatmeal for breakfast, followed by chicken or tuna with brown rice and vegetables for lunch, and include a variation of lunch by adding avocado, and sometimes a sweet potato for dinner. Owen and Lewis also have a cheat day, once a week, usually on Sunday, where they indulge in chocolate, Dominos pizza, and even go out drinking the night before, drinking the same alcohol and quantities. "You've got to live life and you can't let bodybuilding stop you from doing that," Lewis said.
Despite their strict regimens, the Harrison twins admit they haven't always had the same measurements. "There have been times when one twin has been bigger than the other. You do worry about it, but we just have to take measures to level it out," Owen said. The fitness twins admit there is no rivalry between them, and feel they help steer each other with their training. "We will sit down and take pointers from each other to work out how one has a muscle that is more defined or built than the other," Lewis said.
Currently, the fitness twins are fully trained personal trainers at DW Birstall and MPFit in Birstall in the UK. Their Facebook page, "Harrison Twins" has over 100,000 followers while their YouTube videos have gathered more than three million hits. To see their weekly training sample and diet, click here.
Published by Medicaldaily.com