Fitness Blogger Cheyann Shaw Fights Ovarian Cancer With Honest Instagram Posts
A fitness blogger has been documenting her body in good times and bad.
Cheyann Shaw is using her Instagram account to share the truth about ovarian cancer, posting selfies of her body during treatment and expressing her feelings about the disease. "I'm human, I cry and I'm scared. So many people have told me how strong and positive I am, but I have my moments of weakness, like tonight," she wrote in one post. "Cancer has taken so much from me already and on nights like tonight, I try to remember that it is okay to cry; it's good to cry. I don't have to be strong all the time."
In another post, a comparison of her body before being diagnosed — at 130 pounds — and during treatment, at 105 pounds, she wrote that it was hard to see the figure she had worked so hard to sculpt be diminished: "Cancer has taken so much from me. The body I worked so hard for 2 years to get, the ability to have and carry my own child, my hair, and so much more, but one thing for sure is that cancer has not taken my fight and faith."
Read: Anal Cancer, the Disease No One Will Talk About
Shaw also shares more upbeat thoughts. When she started a new round of chemotherapy, she posted, "It's gonna be a long day today but oh well! Just kicking cancer's ass one day at a time." She also reminds people to see a doctor if they don't feel right.
The two ovaries are the reproductive glands that create eggs in a woman's body. According to the American Cancer Society, ovarian cancer can start in any of the three kinds of cells there — the ones on the outer surface, which are the cells most often affected; the cells that produce the eggs; or the ones in the tissue that both produces female hormones and hold the ovaries together. Ovarian cancer is the fifth most deadly cancer in women, and the most fatal of all the reproductive cancers. That may be in part because women are more likely to experience symptoms like bloating, pelvic pain, appetite problems and changes in menstruation if the cancer spreads to another body part.
"A woman's risk of getting ovarian cancer during her lifetime is about 1 in 75," the American Cancer Society says. "Her lifetime chance of dying from ovarian cancer is about 1 in 100."
The Houston Chronicle reported that Shaw, a 23-year-old former fitness model, was diagnosed in August. While undergoing surgery, doctors found the cancer had spread from her ovaries to her spleen, lymph nodes and colon.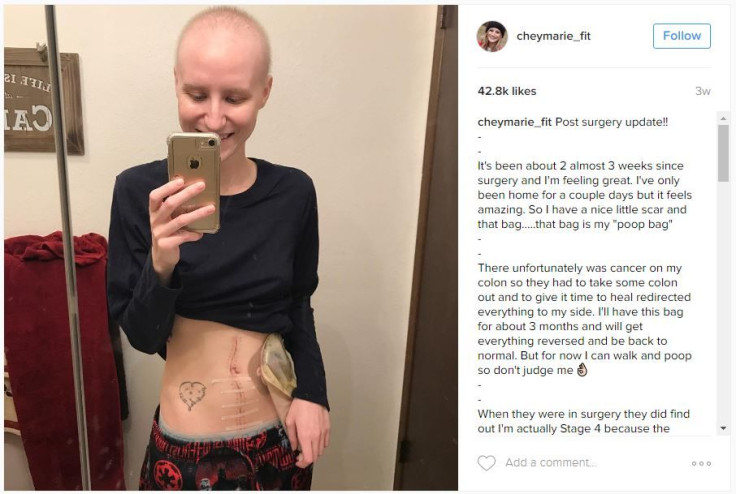 Despite being in stage 4, Shaw remains optimistic. "This is the toughest battle I have and will ever face, but I know I can do it," she wrote in one Instagram post. "The hardest part of all this is my body change. I have a hard time looking at myself in the mirror but I'm learning to love myself again and I know this is only temporary. Once I get the clear light to workout, I'll be in the gym banging those weights."
She also commented on her large surgical scar and the apparatus she has to wear temporarily to collect waste from her digestive system, in light of the cancer's effect on her colon: "I'm proud of my scar and 'poop bag' because it already shows that I'm a fighter and a survivor. I wear my war wounds proudly."
See also:
Endometrial Cancer Symptoms: What To Know After Journalist Gwen Ifill's Death
Published by Medicaldaily.com