Flame Retardant Chemicals Found In Preschools And Day Cares Could Threaten Kids' Brain Health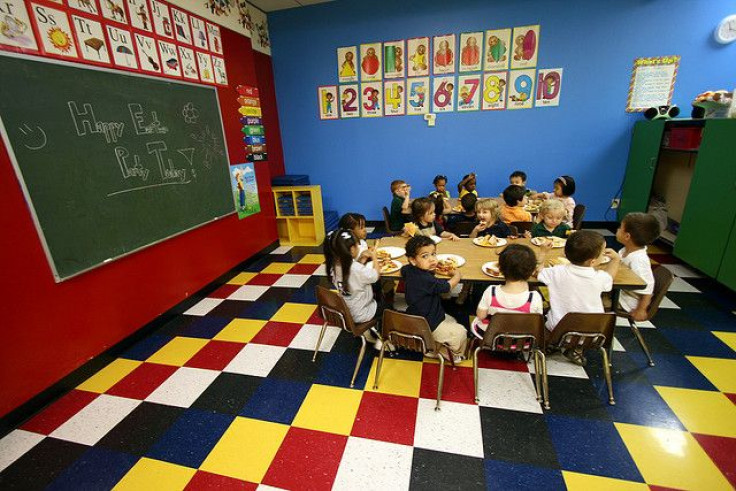 The dust found in some preschools and day cares may contain dangerous levels of numerous chemicals used in flame retardants, such as polybrominated diphenyl ethers (PBDE) and tris phosphate compounds, according to a new study.
Though employed since the 1970s in common household items such as clothing and furniture, flame retardant chemicals have been criticized in recent years, as growing evidence links them to physical and neurological damage in children. Researchers from the University of California, Berkeley, have discovered in their latest study that the majority of preschools and day cares contain threatening levels of such chemicals, particularly on sleeping mats and upholstered furniture.
"Children are more vulnerable to the health effects of environmental contaminants, so we should be particularly careful to reduce their exposure to harmful chemicals," said study leader Dr. Asa Bradman in a statement. Prior research has found increased levels of such chemicals linked directly with several adverse conditions, such as a 2004 study that found PBDE exposure can result in thyroid hormone disruption, developmental neurotoxicity, fetal development changes, and chemical-driven liver damage.
Armed with this knowledge and a bulk of studies that have found the same, Bradman and his colleagues analyzed dust and air samples at 40 child care centers in rural, urban, and agricultural areas in California. They tested for 14 different PBDE and four types of tris phosphate compounds. When they looked at their results, they found the presence of these chemicals was low in the air; however, 100 percent of the floor dust samples tested positive for at least one type of both chemicals.
"These findings underscore how widespread these materials are in indoor environments," Bradman said. The difference in prevalence isn't exactly a shocker, he added. Dust particles are naturally more likely to trap certain chemicals than for the chemicals to float in the air. "Cleaning makes a difference," he told Medical Daily. "We tended to see lower levels of the PBDEs in child care compared to homes, likely due to more frequent cleaning" because child care facilities tend to be cleaned more often.
Of the facilities the team surveyed, 29 had upholstered furniture and 17 had foam napping equipment. Those that contained the foam equipment displayed significantly higher levels of flame retardant chemicals than the places without it. And despite the bans that have been passed in California limiting the chemicals that can go into children's sleepwear and certain furniture, many manufacturers continue to use them, and often incorrectly.
"The new standard is not a ban on flame retardants, but manufacturers can meet it without using the chemicals," said Arlene Blum, visiting scholar at UC Berkeley and executive director of the Green Science Policy Institute, in the news release. Blum refers to the move from TB117, an older standard for fire safety, to TB117-2013, which now requires companies to meet a "smolder test." This test replaces flame retardant chemical use, but doesn't necessarily improve fire safety, Blum argues.
By this point, both Blum and Bradman agree, the responsibility is on consumers' shoulders to determine the safety of their furniture, for both themselves and their children. "Most upholstered fabrics, such as leather, are already smolder-proof," Blum said. "Consumers should verify that the furniture they are buying is free of flame retardants, especially when children will be exposed."
Published by Medicaldaily.com