Florida Propane Plant Explosion: Official Says Public Shouldn't Be Concerned About Gas In The Air After Blasts Injure 8 [VIDEO]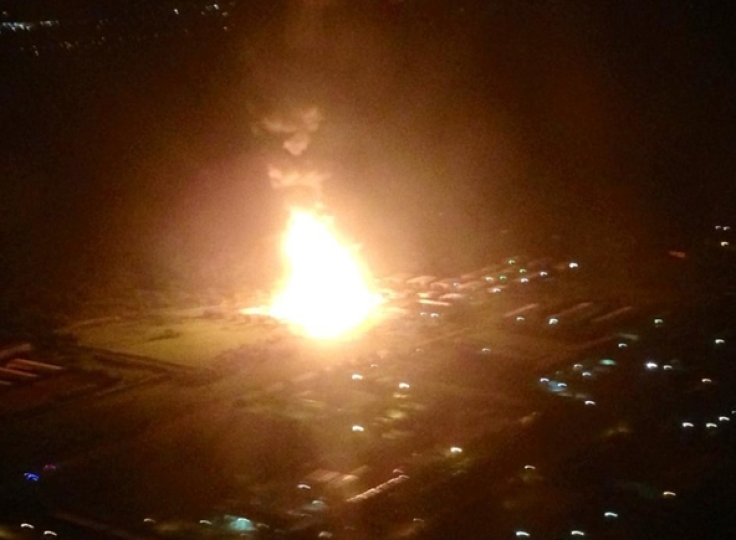 A propane plant in Tavares, Fla., exploded Monday night, injuring eight people — but surprisingly there were no fatalities in the blast that began at around 11 p.m. and could be seen by residents almost 10 miles away.
"I heard a loud bomb sounds," said resident Lisa Garner. "I thought somebody ran into my house."
The explosions lasted over an hour, with residual effects being seen into early Tuesday morning. John Herrell, a spokesperson for the Sheriff's Office in Tavares, said that containing the fire and ensuring no further injuries was of paramount importance.
"At this point, the fire personnel are doing what they can...their main concern is containing this fire, containing this scene," Herrell told the Los Angeles Times.
Initially, about 50 area-homes were evacuated in a one-mile radius of the plant. That number was reduced to a half-mile radius as officials believed they were able to contain most of the explosions.
There were 24 people working at the propane tank manufacturer Monday night. Initial reports said that the explosion, which happened at the Blue Rhino gas plant, left 15 people unaccounted for. Those reports were incorrect, with all of the plant's workers either hospitalized or uninjured. Reports early Tuesday say that eight people were injured in the series of blasts, all of them plant workers. There are no reports of damage to homes or other properties linked to the explosion.
"The fact that there are no fatalities is a blessing," said John Drury, Tavares city administrator. "This was a big deal, and a lot of people responded quickly."
According to CNN, the plant housed 53,000 20-lb. cylinders of propane. Though the exact cause of the explosion is still under investigation, fire officials speculated that equipment error and human failure played a part in the explosion.
"We don't think there was any act of sabotage or anything like that," said Richard Keith, Tavares Fire Chief. "It was probably a human or equipment error."
Meanwhile, spokesman Harell said that although officials are still investigating the blasts, there is no indication that the residents in and around Tavares should be concerned about propane in the air.
Published by Medicaldaily.com