Florida Stranger Agrees To Kidney Transplant For Minnesota 2-Year-Old; Offers Girl Chance At New Life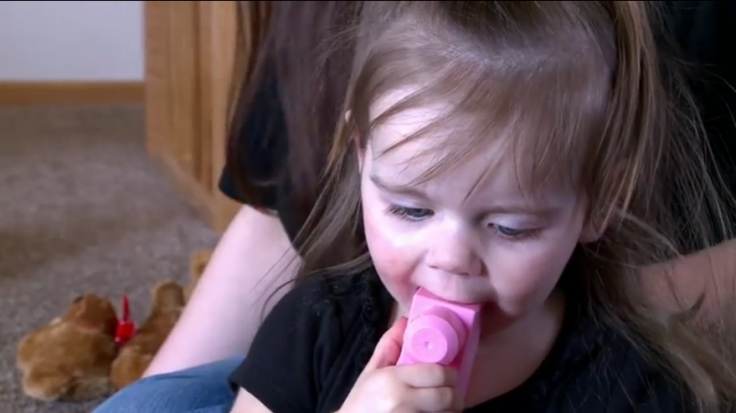 A Minnesota 2-year-old will get a lifesaving kidney transplant this coming May thanks to a stranger who lives 1,500 miles away, reports Minnesota NBC affiliate KARE11.
Arianna Moore was diagnosed with a rare genetic kidney disorder, called Diffuse Mesangial Sclerosis, when she was only 7 weeks old. Unlike her twin sister, who doesn't carry the disorder, Arianna has trouble walking and talking. She also requires a dialysis machine for 10 to 12 hours each night — before bed she's hooked up to it, and in the morning she's taken off.
"It definitely has been difficult," her father Jeremy Moore told the station.
Seeing her daughter struggle even to perform basic functions, Arianna's mother Ashley Booth took to social media. She created a Facebook page for Arianna, explaining her need for a kidney donor. On the page she wrote, "dialysis keeps me alive for now, but a kidney transplant is needed."
Christy Harding took notice. The Jacksonville, Fla., woman says she tends not to respond to such pages, as scrolling through them all is too overwhelming. But Arianna's page, for one reason or another, caught her attention. "And I called on this one, and a match to this one," she said. "I can't imagine waiting for that phone call for somebody to say, 'Yes, someone made the decision to save your daughter's life.'"
What are the odds?
Kidney transplant research has some optimistic things to say about Arianna's upcoming operation, which is scheduled for the first week in May. A 2001 study from Stanford University showed the most successful kidney transplants take place between an adult donor and a young child or infant. In fact, it produces the best survival rate of any transplant in any age group.
"As long as the adult kidney functions immediately in the child, there is no kidney loss from irreversible acute rejection after the first year," Dr. Oscar Salvatierra, co-researcher and director of kidney transplantation at Lucile Packard Children's Hospital, said in a statement. The next challenge is ensuring the kidney functions past the first year. Once it clears that milestone, Salvatierra says, "then the kidney is going to do very well."
It's easy to think that a kidney the same size as a child's other kidney would function better. However, the team's study suggests that the immune response of the receiver's body is overwhelmed by the mass of the incoming kidney. Typically, an imperfect donor kidney triggers an immune response that rejects the foreign organ. But because a child's other kidney is so small in comparison, "the larger mass of donor tissue 'exhausts' the recipient's immune system," explains Dr. Minnie M. Sarwal, a co-author of the study.
A Happy Family
As soon as Ashley Booth heard the news that her daughter found a match, she says she cried — especially as just a year prior Arianna's aunt was discovered to be a match, but Arianna soon fell ill, and the operation couldn't go on.
If the operation is a success, Arianna will finally get to play in the bath and go for a swim. On dialysis, these two things put her at risk for infection. Finally, she'll be able to catch up to her twin sister.
"My son was standing there," Booth recalled, "and tears were coming down my eyes and he said 'Mom, who is it?' I said nothing. These are happy tears. Arianna is finally going to get a kidney."
Published by Medicaldaily.com