Florida Teen Cheats Death, Survives Freak Fishing Accident When Spear Impales His Brain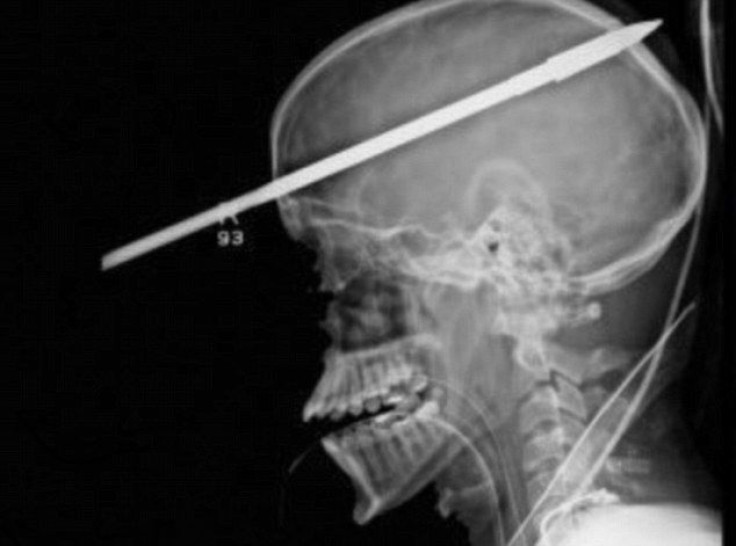 The first images of a 16-year-old boy who survived after being impaled in the head by a fishing spear have been released.
The images show the key factors that may have saved the Florida teen's life, according to surgeons who were able to remove the long piece of metal that had pierced all the way through the teen's brain.
Yasser Lopez had been fishing with a friend at a Miami lake about two weeks ago when the spear gun they were using suddenly fired and lodged in Lopez's head, according to Miami-Dade police.
Soon afterwards, Lopez was rushed to the University of Miami-Jackson Memorial Hospital, where he had reportedly arrived conscious but with 3 feet of the spear protruding from his forehead.
"It's a striking injury," Dr. George Garcia, an army trauma surgeon who treated Lopez said at a press conference on Monday. "It's something you don't see every day, to have a patient awake and speaking with a three-foot spear through his head."
"The tip, it didn't penetrate the skin but you could feel underneath the skin on the back of his head so we knew that it went all the way through," said Garcia, according to ABC News.
Doctors praised the paramedics who treated Lopez for not immediately pulling the spear out of the teen's head.
"The temptation if you don't have experience with these things is, 'Oh well, pull it out,'" said Dr. Ross Bullock, a neurosurgeon at Jackson Memorial, according to ABC. "If you do that, most of the time it's uniformly fatal."
The X-ray images showed that the spear had went all the way through Lopez's head at an angle that just missed his eye and dodged all major blood vessels in his brain. Doctors said that it had propelled through the right hemisphere of the boy's brain, just less than one inch above the central brain that controls the senses, heart rate and breathing.
"All of these are structures that, if this had happened to affect those, he would not have been likely to have survived to even get to the hospital," Bullock said. "If you had to have a spear go through there [the head], then this spear chose the right path to go with the least damage."
Surgeons had used the X-rays to plan the three-hour operation where they removed the rod from Lopez's head. The boy was moved out of the hospital's Intensive Care Unit Monday, and he can now sit up and speak.
The X-ray shows that the spear caused relatively little damage to Lopez's brain, but he may have some lingering trouble with moving the left side of his body.
"He's making pretty much a miraculous recovery," Bullock said.
Published by Medicaldaily.com