Hostess Brands Nationwide Food Recall: Thousands Of Ding Dongs And Zingers May Contain Peanut Residue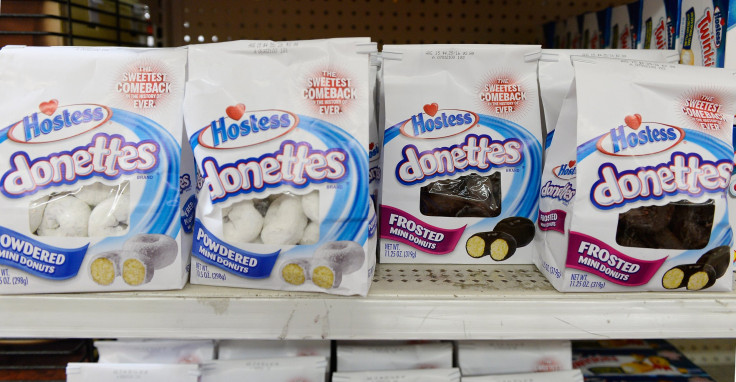 Hostess Brands is the leader in sales throughout the entire $7 billion baked goods market. But they are now recalling 710,000 cases of Hostess snacks and donuts sold in the U.S. and Mexico for possibly containing peanut residue in their flour, according to the Food and Drug Administration. So far, two people have reported experiencing an allergic reaction as a result of eating one of the sweet treats.
"While those who have an allergy or severe sensitivity to peanuts run the risk of serious or life-threatening allergic reaction if they consume products containing peanut allergens, the amount of peanut exposure from use of the flours and affected products is considered to be low and not expected to cause adverse health effects in the vast majority of peanut allergic consumers," the company said in a statement. Anyone who has purchased an affected product and who has a sensitivity or allergy to peanuts is encouraged to discard it or return it to the place of purchase for a full refund."
The announcement from Hostess came after the company's flour supplier, Grain Craft, issued a recall stating that the flour produced in its factories may have been exposed to peanut residue. The products to watch out for are individual packages and bags of Ding Dongs; chocolate Zingers; Chocodiles; Crunch Donuts; Devils Food Donuts; Powdered, Glazed, and Maple Donuts; and more. For a full list of products and what batch of baked goods to avoid, check out the recalled product list provided by Hostess.
Peanut allergies are the most prevalent among children, and according to the American Academy of Allergy, Asthma & Immunology, millions of people develop hay fever and other illnesses as a result of consumption. Peanuts can cause severe and potentially fatal allergic reactions, which puts the responsibility on parents and adult consumers to read ingredient labels on food packaging carefully. But because Hostess products are often eaten by both children and adults, taking the next step and being aware of any food recalls may serve as an important preventive step in protecting against accidental exposure.
Published by Medicaldaily.com