Food Stamp Benefits See Reduction Before Holidays; Recession-Era Boosts Finally Expiring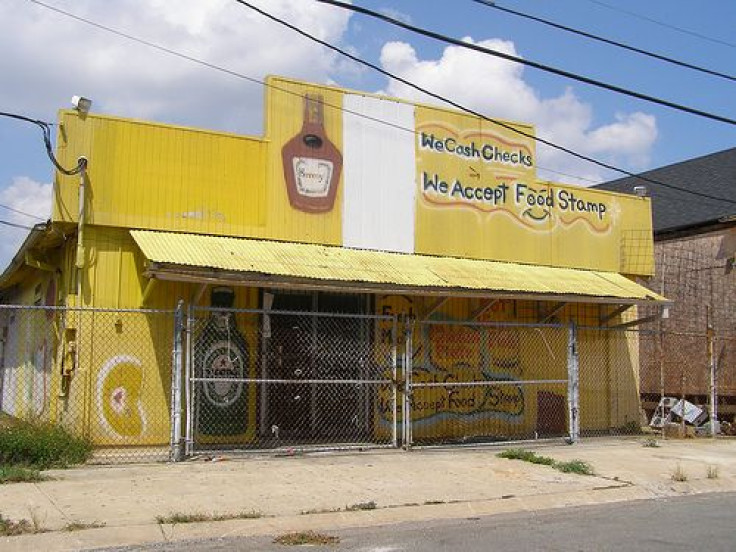 The Thanksgiving table may be slightly emptier for millions of Americans this year, as the major food stamps benefit program in the U.S. is scaling back its benefits starting Nov. 1.
While the decline is perhaps modest — a family of four, all else being equal, will receive $36 less in governmental assistance under the Supplemental Nutrition Assistance Program (SNAP) — experts are saying the impact could be much larger in years to come. The current drop is the result of 2009 boosts following the country's crippling recession finally expiring, yet a longer timeline sees the program cutting billions.
SNAP currently serves 23 million American households, or roughly 48 million people, according to the U.S. Dept. of Agriculture's latest figures. The average household receives $275 in assistance each month, so a $36 decrease has some officials claiming the benefits will drop to the same levels of the mid-2000s — a level of assistance that is not without debate.
"For those of us who spend $1.70 a day on a latte this doesn't seem like a big change," Stacy Dean, vice president for food assistance policy at the Center on Budget and Policy Priorities, told NBC News. "But it does kind of really highlight that millions of families are living on an extremely modest food budget."
Meanwhile, others see the reduction as a return to a natural homeostasis. "That's neither great nor terrible," according to Parke Wilde, associate professor at the Friedman School of Nutrition at Tufts University, who added that the real dollars offered by the government are sufficient in helping feed a family.
More troubling to Wilde are the mid-September cuts approved by the House of Representatives, poised to suck $39 billion out of SNAP over the next 10 years. Republicans argued the cuts weren't as deep as critics suggested, maintaining the changes merely closed loopholes for people who shouldn't be eligible. The new plan institutes tougher work requirements for "able-bodied adults without dependents" between 18 and 50. Beneficiaries must maintain employment, participate in job-training activities, or perform voluntary community service. Roughly 1.7 million people will lose benefits in 2014, and an additional one million per year over the next 10 years.
"We have a very spare cash-based safety net and we rely a lot on food stamps to give people the resources they need to avoid hunger," Wilde said.
Current benefits allow recipients to buy up to two-and-a-half to three weeks' worth of food at a time, according to chief executive of the San Antonio Food Bank in Texas, Eric Cooper. By Cooper's measure, with the reduction, families will now be able to buy two to two-and-a-half weeks' worth of food.
"It's going to place a lot more demand on us for kind of 'food for today' type strategies," he said. "Our emergency food and the need for more assistance is going to be greater."
Published by Medicaldaily.com