Former Subway Spokesman Jared Fogle Sentenced To 15 Years Over Underage Sex, Lawyer Blames 'Sex Addiction'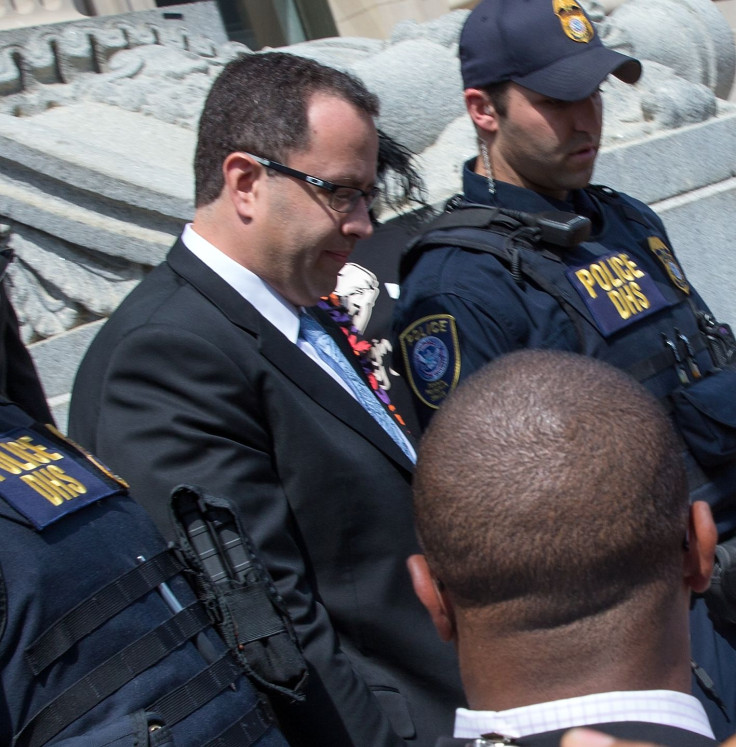 The immediate fate of once-popular fast food spokesman Jared Fogle is now finally set in the aftermath of his sentencing hearing in an Indianapolis federal court Thursday.
For the crimes of having possessed and distributed child pornography as well as having traveled across state lines for paid sex with a minor, the former Subway celebrity was sentenced to 15 years and 8 months in prison by Judge Tanya Walton Pratt. Even under the best circumstances, Fogle will serve at least 85 percent of his sentence behind bars, possibly at the federal jail in Littleton, Colorado that Judge Pratt recommended for its sexual offender program.
As befitting the grand spectacle that surrounded his relatively short trial, both sides of the legal aisle couldn't help but reference the 38-year-old's drastic weight loss that led to his meteoric rise in the public consciousness during the five-hour long sentencing hearing. In the case of the defense, however, they tried to offer it up as a root cause of Fogle's later deviant acts.
As reported by the IndyStar, one of Fogle's defense lawyers, Jeremy Margolis, endeavored to reduce Fogle's potential sentence by claiming that Fogle had suffered a "crashing and burning of his life" in the wake of his crimes being discovered, but that his client was fully committed to paying restitution and recovering from the psychological ailments that led him to sleep with sex workers as young as 16, seek out sex workers as young as 14, and recruit Russell Taylor, former executive director of the nonprofit foundation Fogle founded to combat childhood obesity, to send him hundreds of images of young girls as young as 6 (Fogle alleges to have never requested photographs of girls that young).
In particular, referencing earlier defense testimony — via phone — by John Bradford, a professor of forensic psychiatry at the University of Ottawa in Canada who interviewed Fogle for five hours earlier this August, Margolis claimed that Fogle's lifelong eating disorder only became more menacing once he achieved significant weight loss. At no loss for pithiness, Margolis said that Fogle "traded a horrible food addiction for a horrible sex addiction."
It's an argument that fell on deaf ears as Judge Pratt chose to confer a sentence even beyond the 12-and-a-half years prosecutors recommended as part of the plea deal they arranged with Fogle. "Federal judges do not sentence based on emotion or public sentiment," Pratt said, according to the IndyStar. "The level of perversion and lawlessness exhibited by Mr. Fogle is extreme."
While acknowledging that Fogle has made genuine efforts at reformation, not only by immediately turning himself in to authorities but also by paying $1.4 million, divided evenly, to his 14 declared victims, Pratt was mindful of his public fame. "This defendant's celebrity cuts both ways," she said. "He will likely get protection when he goes to the Bureau of Prisons."
Even once Fogle is released, he will receive lifetime supervision and be forced to pay a $175,000 fine. Reading a prepared statement prior to the decision, Fogle said, "Not a day will go by when I don't think about what I did to [the victims]."
Published by Medicaldaily.com