Freak Snowstorm Cuts Power to 2 Million, Kills 3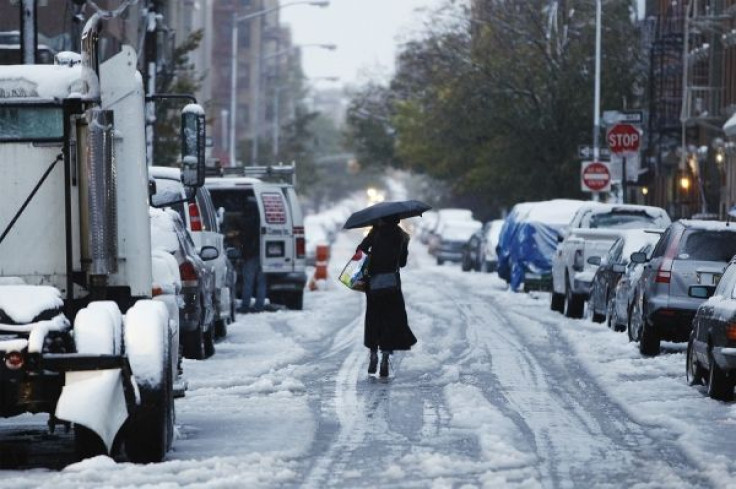 An unexpected early snow storm hit the mid-Atlantic and much of New England on Saturday, killing 3 people in snow-related incidents and triggering power outages to more than 2 million customers.
Snowfall was heaviest in western Massachusetts, with many areas in the state receiving more than 20 inches of snow as of late Saturday, according to the National Weather Service.
A large area of precipitation associated with the storm covered much of the Northeastern Mid-Atlantic states and southern New England.
Power Outages
There were about 2.3 million people without power as of Saturday evening, according to the Associated Press.
New Jersey Gov. Chris Christie declared a state of emergency for the entire state, where hundreds of thousands had lost power in the early evening. New York Gov. Andrew Cuomo made an emergency declaration across 13 counties.
New Jersey utilities PSEG and JCP&L reported, respectively, 341,000 and 250,000 customers without power. PSEG said full restoration may not take place until Wednesday because of damaged trees and downed power lines.
PPL Electric of Pennsylvania reported 214,000 customers without power, Con-Edison in New York reported 77,000 and NStar of Massachusetts reported 52,000 without power.
Fatalities
A 20-year old man died in Springfield Massachusetts after being electrocuted by a downed power line, according to the Associated Press. Capt. William Collins said the man stopped to watch firefighters and police examining downed power lines and stepped in the wrong place.
In Temple, Pennsylvania, a snow-heavy tree fell into a house killing a man "instantly," a state police report said, according to CNN.
One person died while driving in Hebron, Connecticut, an emergency spokesman said.
Looking Ahead
The storm is expected to move northeast, approaching Nova Scotia, Canada by Sunday afternoon.
Precipitation should end across New England by late Sunday.
Published by Medicaldaily.com