Free Meals For Boston Public School Students: All Qualify, Regardless Of Family Income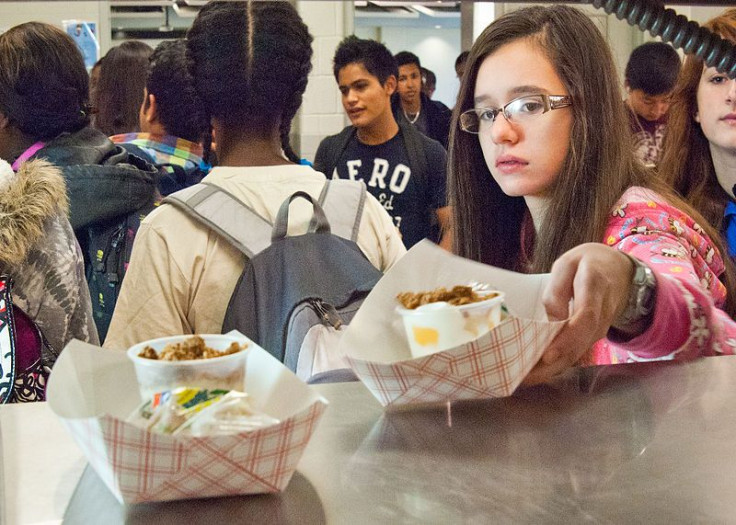 Nearly one out of every 10 children in America lives in a household that struggles to put food on the table, according to the U.S. Department of Agriculture (USDA). Such 'food insecurity' is more common in large cities and rural areas than it is in the suburbs. In one major American city, though, the children have just become more secure — Boston public schools will be serving free meals to all students, regardless of family income, throughout the coming academic year. Both breakfast and lunch will be provided courtesy of the USDA's Community Eligibility Option.
Income Levels
"When we saw a chance to offer these healthy meals at no cost to [students], we jumped at the chance," said Mayor Thomas M. Menino in a press release. "This takes the burden of proof off our low-income families and allows all children, regardless of income, to know healthy meals are waiting for them at school every day."
Previously, families had to fill out and return forms to qualify for the meals program, and the majority — 78 percent of Boston public school students — qualified for either free or reduced-price meals. Some families, though, earned what seemed like pennies above the stated income level and so their children did not qualify for meal assistance during school. From data extracted on Sept. 04, 2013, the U.S. Bureau of Labor Statistics estimates unemployment in the Boston-Cambridge-Quincy area as 6.6 percent during the month of July.
Unemployment statistics are calculated based on a sample survey conducted by the Census Bureau, though. People are considered 'employed' if they did any work for pay or profit during the survey week; this means even part-time and temporary workers are counted as 'employed,' despite the fact that they may not be earning a living wage.
Community Option
Over the summer, Boston and the Massachusetts Department of Elementary and Secondary Education entered the national program known as Community Eligibility Option. Going forward, Boston will waive meal fees for all children regardless of their family's earnings. "We are proud to take part in this project because it will help ensure every child is ready to learn, regardless of income," Boston School Committee Chair Michael O'Neill stated in a press release. The goal of this national program is not only to provide healthy meals to children but also to save parents' money. With the Community Eligibility Option in place, Boston families may save an additional $405 to $455 per child each year. Last year, the Boston school system launched a universal breakfast program and waived charges, regardless of family income, so that all children would receive a free morning meal. With the free breakfast program in place, even those families who did not previously qualify for free or reduced-price meals saved about $230 per child.
"Boston Public Schools has been a leader in the effort to increase participation in school meals," Jim Weill, President of the Food Research and Action Center, stated in a press release.
Congress established the Community Eligibility Option with the passage of the Healthy, Hunger-Free Kids Act in 2010, which is focused on improving child nutrition. The USDA has phased in implementation of the program over three years, beginning in 2011. As of the 2014-15 school year, the program became a nationwide option.
Published by Medicaldaily.com