Fresh Apricot Recipes: Quick And Healthy Ways To Eat Summer Apricots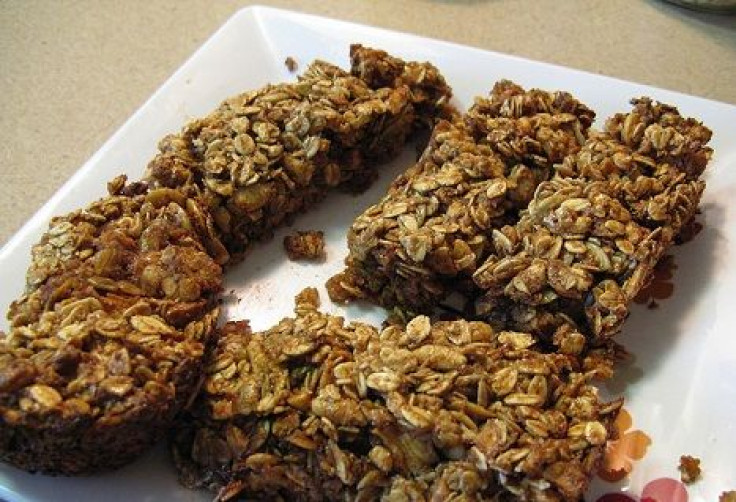 Apricots may be small but the fruit is packed with vitamins A and C, potassium, and fiber. Plus, they're low in fat, sodium, and calories.
The fresh apricot season typically starts in mid-May and lasts through July. When picking apricots, look for these markers to select the best of the bunch:
plump
well-formed
fairly firm
delicate aroma
golden orange in color
As summer nears, try out some creative ways to incorporate apricots into your daily diet. Whether raw or cooked, here are some tantalizing and healthful apricot recipes.
1. Healthy Oat and Apricot Bars
Ingredients:
1 cup whole wheat flour
1 tsp baking powder
½ cup unpacked brown sugar
½ cup uncooked quick oats
15 pieces dried apricot halves, diced
2 Tbsp. sunflower seeds
1 Tbsp. butter, melted
½ cup fat-free egg substitute (or 2 eggs)
Prep: Preheat oven to 350F. Coat an 8-inch square baking pan with cooking spray. Whisk together flour, baking powder, sugar, oats apricots, and sunflower seeds. Then whisk together butter and egg substitute. Quickly mix together wet and dry ingredients. Spoon into prepared pan and smooth the top. Bake until firm (about 20 minutes). Cool completely before cutting into 8 rectangles (one bar per serving).
Recipe Courtesy of Food.com.
2. Apricot Pasta Salad
Ingredients:
4 oz fusilli (corkscrew) pasta
6 fresh apricots (3/4 LB), cut into quarters
1 whole chicken breast, cooked and shredded
2 small zucchini (1/2 LB), julienned
1 red bell pepper, julienned
1 Tbsp. chopped fresh basil, or 2 tsp. dried
Apricot Basil Dressing (See Below)
Prep:
To make salad:
Cook pasta as package directs. Drain, cool. Combine pasta, apricots, chicken, zucchini, red pepper, and basil in a bowl. Toss with dressing. Makes 4 servings.
To make dressing:
Combine 2 fresh, ripe apricots (pitted)
2 Tbsp. white wine vinegar
1 Tbsp. sugar
Stir all in blender. With blender running, slowly add in ¼ cup vegetable oil until mixture thick and smooth. Stir in 1 Tbsp. chopped fresh basil or 1 tsp. dried basil. Makes 1 cup.
Recipe Courtesy of California Apricots.
3. Apricot Chutney
Ingredients:
3 cups apricots, peeled, pitted, and quartered
1/2 cup dried figs, quartered
1/2 cup white wine
1/3 cup sugar
1/4 cup golden raisins
1 1/2 teaspoons chopped thyme
1 tablespoon honey
1 tablespoon fresh lemon juice
1 teaspoon mustard seeds
1/2 teaspoon cumin
1/2 teaspoon ground ginger
1/4 teaspoon kosher salt
Dash of ground red pepper
1/2 jalapeño, finely chopped
1/2 shallot, sliced
2 tablespoons chopped cilantro
Prep:
Combine all ingredients except cilantro in a large Dutch oven over medium heat, and simmer. Cook 15 minutes. Stir in cilantro.
Recipe Courtesy of Cooking Light.
4. Sweet Semolina and Dried-Apricot Pilaf
Ingredients:
2 cups whole milk
3/4 cup sugar
1 stick unsalted butter
1 cup coarse semolina (6 ounces); see Note
1/2 cup slivered almonds
1/2 cup dried apricots, finely diced
1/4 teaspoon pure almond extract
Pinch of salt
Crème fraîche or orange sorbet, for serving
Prep:
In a small saucepan, bring whole milk to a boil with the sugar. Simmer over low heat for 5 minutes.
In a large saucepan, melt the butter. Add the semolina and almonds and cook over moderate heat, stirring constantly, until golden and fragrant, about 8 minutes.
Remove from the heat and gradually stir in the milk mixture, apricots, almond extract and salt. Cover and let stand until the liquid is completely absorbed, about 20 minutes. Fluff with a fork and serve with crème fraîche or sorbet.
Recipe Courtesy of Food & Wine.
5. Apricot Apple Smoothie
Ingredients:
4 apricots, peeled, pitted, chopped
1 apple (Golden Delicious), peeled and cored
1 banana, peeled
1 cup apple juice
¾ cup low-fat plain yogurt
10-12 ice cubes
1 Tbsp. honey
Prep:
Place all ingredeients in a blender and puree until smooth. Pour into tall glasses and serve immediately.
Recipe Courtesy of Food.com.
And one for fun!
6. Apricot Sour
Ingredients:
1 1/2 ounces apricot brandy
1 ounce sweet vermouth
1 ounce fresh lemon juice
1 large egg
3 dashes of orange bitters
Ice
1 brandied cherry
1 fresh apricot slice
Prep:
Put the brandy, vermouth, lemon juice, egg, and bitters in a cocktail shaker. Shake well for 10 seconds. Add ice and shake again. Strain into an ice-filled glass.
Garnish with apricot slice and cherry, skewered on a pick.
Recipe Courtesy of Food & Wine.
Plus, try more sumptuous apricot ideas:
Substitute canned apricots for peaches in your favorite dishes.
Serve canned or frozen apricots in soufflé cups with granola topping.
Try dried apricots for breakfast as a topping for hot or cold cereals.
Substitute dried apricots as a healthy afternoon snack.
Add dried apricots to fresh-tossed or spinach salads for added sweetness.
Published by Medicaldaily.com