The Freshman 15: 5 Strategies For Preventing Weight Gain During Your First Year Of College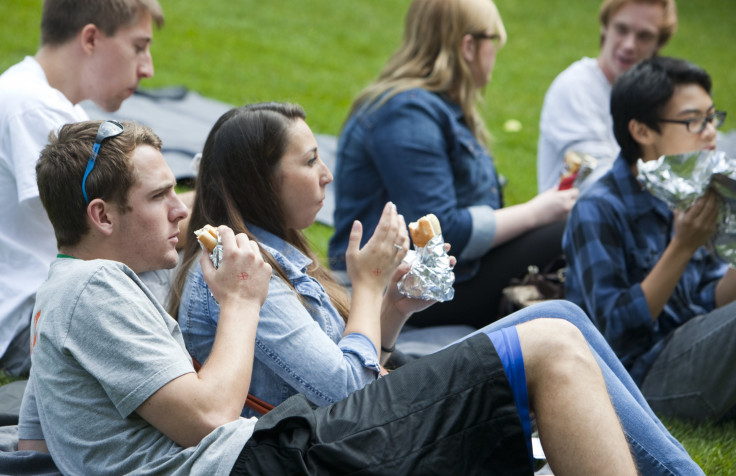 Twenty years ago, I moved into the Mary Markley Hall at the University of Michigan. It was a really exciting time in my life. My focus was pre-med, I had a full class load, and about 70 percent of my graduating class was going to be starting their fall semester there.
Back then, the low-fat craze was still trending. Black coffee, scooped out bagels, cereal, and frozen yogurt were the way most girls stayed thin. Guys and gals alike worked out hard to stay fit, active, and healthy.
Dorm cafeterias were ranked by which had the best salad bars and taco night, and where we could find a frozen yogurt machine.
From late nights at the library fueled by sugar and coffee to frat parties and late night slices of pizza, gaining weight for some was inevitable. This weight gain, known today as the "freshman 15," is the result of eating or drinking an average of 220 extra calories per day for an entire semester (September to May). Let me give you a few examples of what 220 calories looks like:
2 tablespoons of nut or seed butter

2 tablespoons of salad dressing

1 tall 2 percent Double Chocolaty Chip Crème Frappuccino Blended Crème from Starbucks, no whip

1/4 cup of nuts or trail mix

1 Snickers bar
You get it. It's not that much but it adds up! While I could have listed other "healthy" items on the list, everyone's definition of healthy has changed. Is healthy gluten-free, vegetarian, soy free, dairy free, paleo… we all have our own definition of healthy.
I decided to take a look at my Alma Matter's dorm room menus online. Well, low and behold, just like restaurants have changed over the past 20 years, indicating what meals were heart healthy or vegetarian, this menu highlighted and offered foods like vegetarian brownies, gluten-free noodles, a vegan white bean mint and red onion salad, and even vegan burger crumble tacos. Thinking back to when I was a freshman, we could only access the hours of operation online; menus were printed and placed inside the dorms, and they highlighted the special of the day/week. My, how times have changed.
Let's talk about this ominous myth: The Freshman 15
According to a study conducted by Ohio State University, freshmen actually gain an average of 2.5 to 3.5 pounds. After reviewing data from 7,418 interviews with subjects aged 17 to 20, both male and female and all of whom were attending their first year of college, researchers found that the actual weight gain was about 3 pounds during the year. Some other behaviors that could influence weight included heavy drinking, which increased a person's risk of weight gain, and having a job, which decreased a person's risk of losing weight.
I pooled around and asked a few friends if they gained weight their freshman year. Some said no, some said a few pounds. But a few of them brought up that some of their high school classmates who hadn't even attended college put weight on the year after high school.
Interestingly enough, this same study, which was published in the journal Social Science Quarterly , also found that young adults who do not go to college gain weight — about a half pound less than college students of the same age. In other words, college attendance has almost no effect on weight gain.
Like most transitions in life, there is always the unknown and uncertainty that comes with it. For a young college adult, choosing a college after high school was probably the biggest decision they've ever had to make. In their first year, they're trying to figure out their major, make new friends, and may be contemplating rushing a fraternity or sorority. Not to mention they're just getting a handle on adult life.
The myth of the Freshman 15 is daunting. Let's face it, the potential to gain weight exists when we start college. From all-nighters resulting in sleep deprivation, to finals and keeping your grades up, there is a lot of stress. And one of the best coping mechanisms for managing stress is food. Regardless of how much our lifestyles change, and how we tackle those changes, we all need strategies that will help us maintain a healthy weight.
That said, here are five smart strategies to avoid gaining weight during your Freshman year:
Stay Active. You may be walking across half the campus to get to your classes each day but you'll still want to find a time to get to the school gym. Joining an intramural sport may not fit into your busy schedule, but perhaps you can find a weekend activity group. Check out the fitness classes they offer. Who knows, you may really like Turbo Kickboxing or Zumba. Remember it is about a combination of cardio and resistance. Also, exercise releases hormones that keep you happy. You can also zen out on Sunday nights before the week starts with a yoga class.

Stay Balanced. For some of us, the fear of weight gain is most prominent when we start college. Let's say, for example, you are starting college with a weight loss goal, then balance is the name of the game. In my book, The One One One Diet , I look at the three macronutrients in our diet: protein, carbohydrate and fat. I espouse that each meal and snack should consist of one serving of each of the macronutrients. This keeps your blood sugar stable and your cravings at minimum and leaves your brain and body satiated and full from the fats. The balance within your meals and food choices makes the difference between a high blood sugar followed by a crash, or stable blood sugar with minimal cravings and satisfaction.

Stash healthy snacks in your dorm room. Be prepared to avoid the vending machine. I recommend keeping a sweet and a savory snack on hand. For sweet snacks, there is nothing simpler than a KIND bar . I love the Nuts & Spices bars. With healthy fats from the almonds, you will feel full and not heavy, and they'll give you sustained energy. Another bonus: You get all that sweet, natural flavor, all in 5 grams of sugar or less. For savory, I love the Crunchy Chickpeas from Saffron Road . They are a great alternative to chips, and each serving boasts 5 grams of protein, 2 grams of fiber, and only 2.5 grams of fat.
Stay hydrated. It is not uncommon for us to misinterpret thirst as hunger. When we are hydrated, not only do we have more energy but we also have a better sense of our hunger. In college, we are often fueled by coffee or other high-caffeine/high-sugar energy beverages. While coffee does contain antioxidants, it can also leave you feeling dehydrated. Too much is not always a good thing. I caution students who turn to "energy" drinks as the levels of caffeine, when combined with overconsumption, can lead to hospitalization or even death.

Stay Rested. Sleep is as much a critical success factor for staying sharp and alert in the classroom as it is for keeping the pounds off. Chronic sleep deprivation leads to cravings, an increase in your cortisol and can make you mean and moody. Try to keep a regular sleep schedule on most days. Aim for at least seven hours of sleep. And there is also nothing wrong with a nap after class, especially when you know you will be up for a study group late that night.
Nutritionist Rania Batayneh, MPH is the author of the best-selling book, The One One One Diet: The Simple 1:1:1 Formula for Fast and Sustained Weight Loss. She holds a master's degree in public health nutrition from the University of Michigan School of Public Health, and is also a Wellcoaches Certified Health and Wellness Coach endorsed by the American College of Sports Medicine (ACSM). Stay connected and follow her on Twitter, Facebook, & Instagtam: @RaniaBatayneh​
Published by Medicaldaily.com