Frittata with Asparagus, Bacon, Asiago, Potatoes, and Caramelized Onions & Mushrooms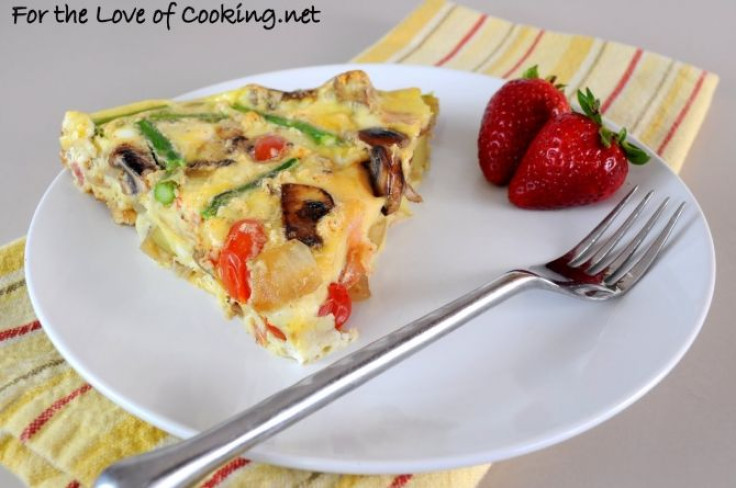 This was the last dish I made in our old house before moving. I made it in the morning to give us a big boost of energy to pack the rest of our things. It was super easy to put together and came out tasting wonderful! It was hearty, filling, and delicious. I think this may be my new favorite frittata.
Frittata with Asparagus, Bacon, Asiago, Potatoes, and Caramelized Onions & Mushrooms:
Recipe and photos by For the Love of Cooking.net
4 slices of lean bacon, cooked & crumbled
2 tsp of olive oil (more if needed)
1/2 sweet yellow onion, chopped
Several button mushrooms, quartered
7-8 baby fingerling potatoes
7 eggs
3 tbsp milk
Sea salt and freshly cracked pepper, to taste
Dash of cayenne pepper
Grape tomatoes
Asparagus, wooden ends removed & cut into thirds
2-3 tbsp Asiago cheese, shredded
Preheat the oven to 350 degrees. Coat a tart pan with cooking spray.
Cook the bacon until crisp. Place onto a paper towel to drain then chop. Heat the olive oil in a large skillet over medium high heat. Add the onions and mushrooms then cook stirring often until caramelized, about 20 minutes. Add more olive oil while the onions & mushrooms are cooking if needed.
While the onion & mushrooms are cooking, boil the potatoes in a pot of water for 10 minutes or until fork tender. Drain and let cool. Chop the potatoes into small bite sized chunks.
Place some of the bacon, onion mixture, potatoes, grape tomatoes, and asparagus into the bottom of the tart pan; next add a bit of the Asiago cheese. Combine the eggs with the milk then season with sea salt, freshly cracked pepper, and cayenne pepper, to taste. Whisk the eggs until they are mixed thoroughly.
Pour the egg mixture into the tart pan then add the remaining onion mixture, potatoes, bacon, grape tomatoes, asparagus, and Asiago to the top.
Place into the oven and bake for 20-25 minutes, or until a tester inserted in the center comes out clean. Let the frittata cool for a few minutes before slicing and serving. Enjoy.