FSU Coach Jimbo Fisher's Son Battling Rare Blood Disease: What Is Fanconi Anemia?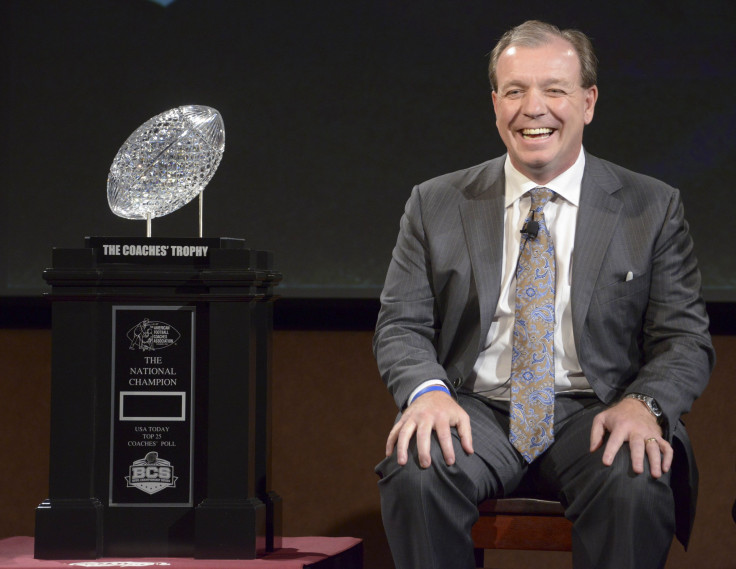 Florida State University football coach Jimbo Fisher has had a remarkable year. His team, the FSU Seminoles, is undefeated at 13-0. The team's quarterback, Jameis Winston, won the 2013 Heisman trophy. And the Seminoles are headed to the BCS National Championship game on Jan. 6. But amid all of these successes, Fisher sees another opportunity: the team's winning streak can help bring attention to the rare blood disorder Fanconi Anemia, which his 8-year-old son, Ethan, suffers from.
"I love what I do," said Fisher, according to CNN. "The more success I have, the more awareness I can bring to this disease."
In 2011, Ethan was diagnosed with Fanconi anemia after a bad bout with the flu. Doctors initially told the Fishers that Ethan's platelet count was low, but it wasn't anything to worry about. Then, at a check up a few months later, Ethan received his diagnosis. The family was devastated. "All we knew about the disease was what we looked up online," said Fisher. "It was all the worse-case scenario. We thought it was a complete death sentence."
According to the University of Maryland Medical Center, Fanconi anemia is an inherited blood disease that results in a decreased production of all blood cells, including platelets. The disease occurs most often in children between the ages of 2 and 15. Symptoms of Fanconi anemia include short height, abnormal heart, fatigue, and changes in skin coloration. Fanconi anemia patients are at increased risk for acquiring acute myeloid leukemia as well as neck, breast, and brain cancers, according to CNN. There's no cure for the disease, but with treatment it can be managed.
"We're committed to finding a cure," Fisher said during an interview with ESPN. "Anything can be cured and that's our commitment. We're going to find a cure. We're on a quest to find a cure."
Ethan's mom, Candi Fisher, said the family is keeping a close eye on his condition. "Right now, there's not any treatment," she said. "It's just kind of a waiting game right now. He'll have to have his blood work redone every three months, and he'll have to do an updated bone marrow biopsy once a year. They'll just keep watching his counts and when he starts showing a decline, then he'll have to advance to treatment."
The Fishers created the "Kidz 1st Fund" shortly after Ethan's diagnosis to raise awareness and funds to support Fanconi amemia research. For more information on Fanconi anemia, and on how you can contribute to the cause, visit the organization's site.
Published by Medicaldaily.com